CHENGDU - As of Monday afternoon, Chinese rescuers were unable to locate a military helicopter that crashed during a quake- relief operation after two days of search.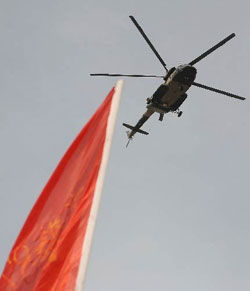 A helicopter searches for the crashed military transport helicopter in Yingxiu, Wenchuan County on Sunday, June 1, 2008. [Xinhua] 
The Sichuan provincial government's information office said rescuers were continuing in their efforts to locate the chopper that crashed with 19 people aboard, including five crew.
The helicopter crashed on Saturday after encountering strong turbulence and heavy fog in a mountainous area.
Zhu Xinmin, a Chengdu Military Area Command official, said the Mi-171 helicopter, which belonged to the area command, crashed at 2:56 p.m. on Saturday near the quake-devastated Yingxiu Township in Sichuan Province. It was returning from a mission carrying epidemic prevention experts to the province's quake-hit Lixian County.
After the crash, the Chengdu military area command's disaster relief headquarters immediately organized a rescue operation and ordered more than 3,000 troops and militia to join the search.
From Sunday morning to Monday afternoon, a number of helicopters had been mobilized. As the site where the helicopter crashed was in an area of high mountains and canyons with dense forests, the search had met with great difficulties, Zhu said.
The official said the pilot of the crashed helicopter, Senior Colonel Qiu Guanghua of the Qiang ethnic group, had conducted 63 flights carrying relief goods, workers and quake-affected residents since the May 12 earthquake.