BEIJING -- China Thursday inaugurated one of the world's longest bridges, which will provide an important new route into Shanghai, Chinese media said.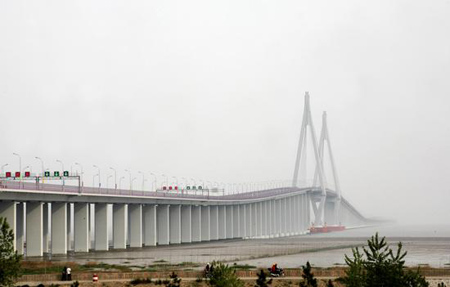 This photo, taken on Wednesday, April 30, 2008, shows the Hangzhou Bay Bridge, the world's longest sea bridge. China inaugurated the Hangzhou Bay Bridge on Thursday as part of its effort to boost economic integration and development in the Yangtze River Delta. [Xinhua]
Presented as the "world's longest sea bridge", the 36-kilometre (22-mile) structure connects Jiaxing city near Shanghai to the port city of Ningbo in the eastern province of Zhejiang.
It is slightly shorter than the 38.4-kilometre Lake Pontchartrain Causeway Bridge in the southern United States, which is often billed as the world's longest.
The 11.8 billion yuan (US$1.7 billion) bridge cuts the length of the road trip from Shanghai to Ningbo by 120 kilometres, the official Xinhua news agency said.
Construction of the six-lane bridge started in November 2003 in an effort to reduce traffic congestion in the booming area, Xinhua said.
Hundreds of people attended an opening ceremony on Thursday afternoon, it said.
The bridge was opened to traffic on a trial basis at 11.58 pm (1658 GMT), Xinhua said. However, officials did not know how long the trial would last, it added.