TOKYO: Japanese Prime Minister Yasuo Fukuda said on Friday he would like to attend the opening ceremony for the Beijing Olympics, although a decision has yet to be announced.
Analysts said his comments - made days ahead of a visit by President Hu Jintao, the first by a Chinese president to Japan in a decade - on attending the August ceremony would be a friendly gesture toward China.
"It would be good if I could go," Fukuda told reporters.
An official announcement on attending the Games could be made during Hu's visit, Kyodo news agency quoted government officials as saying.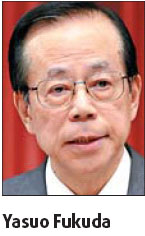 If Fukuda does so, it would be the first time a Japanese prime minister has attended the ceremony since 1988, when Noboru Takeshita, then prime minister, was present at the opening ceremony of the Seoul Olympics.
On Thursday, Fukuda met with 10 representatives of Chinese students studying in Japan, and told them "we warmly welcome President Hu to Japan".
He said that despite some problems in bilateral ties, he hoped that the Chinese students will, under whatever circumstances, recognize the importance of Japan-China relations and strive for their development.
Hu's five-day trip from Tuesday will be his longest state visit to any one country since he became president in 2003, underscoring the importance placed on bilateral ties.
Related readings:


 US public sees Japan as top partner in Asia: survey


 President to visit Japan next week


 China to push strategic, reciprocal ties with Japan


 China quashes rumors that national flags were rejected by Japan Customs
"Hu wants a lasting improvement in relations with Japan," said Shi Yinhong, a foreign policy expert at Renmin University of China.
"Neither side wants to return to the old troubles, but getting fully beyond them requires more mutual trust."
Andrew Horvat, a professor at Tokyo Keizai University, said: "China is the key to the stability of the Japanese economy."
Hu is scheduled to discuss issues of climate change and trade agreements, meet business leaders, and make a speech at a university.
"This visit will symbolize that relations are becoming normal. It won't solve any substantive issues," said Huang Dahui, an expert on Japan also at Renmin University.
Agencies - Xinhua