Tighten your belts and brace for two years of tough times, large State-owned enterprises (SOEs) have been told by the minister supervising the country's 150 largest SOEs.
"Please keep a close watch on your purses and do not splurge," Li Rongrong, minister of the State Owned Assets Supervision and Administration Commission (SASAC), was quoted as saying by Economic Observer newspaper on Friday.
He made the warning on April 24 when he was reviewing the performance of the SOEs with their bosses, but the speech was made public only on Friday.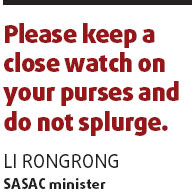 Some of the SOEs have reported a slowdown in profit growth in the first quarter. They booked revenues of 2.6 trillion yuan ($371 billion), up 27 percent year-on-year, but their profits declined by almost 3 percent over the same period.
An Fengming, an analyst with the SASAC research center, said the companies must improve risk controls.
The US subprime crisis has caused a slowdown in the global economy, and China should be fully prepared for it, he said.
Last month, the International Monetary Fund revised its global economic growth forecast this year to 3.7 percent, down from 4.9 percent.
In the first quarter, China's exports grew 21.4 percent, 6.4 percentage points lower year on year; and a group of economic institutes led by Peking University predicted that export growth could slow down to 19 percent in the second quarter.
Related readings:


 Olympics service to be new measurement for central SOE performance

 Insider trading banned for SOE managers


 State-owned insurance firm sharpens edge


 State-owned investor eyes overseas market


 State-owned enterprises post 32% rise in profits
Rising inflation and raw material costs have also added to the woes of some large SOEs.
Although oil and coal prices continued to rise on international markets, profits in the two sectors dropped by a third because SOEs were forbidden to raise prices as the government considers taming inflation more of a priority than the profits of such SOEs as Sinopec and PetroChina.
Shen Minggao, chief economist of Citigroup China, said the costs of raw materials and labor were significantly undervalued, so there are two choices: Either raise domestic prices or cut profits, and the second scenario is more likely for many Chinese companies.
To fend off the challenges, Li warned companies to be more careful about borrowing and urged them to keep more money on hand.
In the operational budgets of the 150 SOEs, 67 companies said they would borrow more this year for expansion, and some companies' asset-liability ratio was even planned for up to 80 percent.
A total of 38 companies said they had negative working capital in the first quarter.
China Daily