State-owned insurance firm sharpens edge
Increased economic reform by the Cambodian government has led to a great influx of overseas capital into the country's financial sector.
As the booming sector drives up the country's gross domestic product (GDP), the Cambodian National Insurance Company (CAMINCO) has proved its competitiveness in the field, especially in auto insurance.
The pursuit of long-term cooperative relations is a contributing factor to the firm's success, said Vong Sandap, managing director of the company, said in a recent interview.
Incorporated officially in 1990, CAMINCO did not begin exploring the "small and young" insurance market of Cambodia until it became operational in 1993.
In accordance with related laws and regulations, CAMINCO was restructured as a public enterprise in December 2001.
It was the first company to meet the $7 million capital requirement and the only entity to receive a 5-year general insurance services license from the Ministry of Economy and Finance in December 2002. The license was renewed last December.
"The majority of our clients take out policies for small domestic needs, like auto insurance," said Vong.
With flourishing trade and investment ties between China and Cambodia, the insurance company is looking forward to more business opportunities.
"More and more Chinese investors are coming to Cambodia and we expect business relations with the Chinese market to increase," the managing director said.
Apart from CAMINCO, there are four other players in the Cambodian insurance market, all of which are private-owned firms.
Of these five insurance service providers, Forte tops the list while CAMINCO ranks third in terms of market share.
But when it comes to auto insurance, CAMINCO is the leader. It is also "very successful" in the travel insurance sector.
Independence key merit
The managing director attributed his company's success to independent operation.
"The government is responsible for the strategy, policy, and monitoring of the company, but for daily operations, including management, finance, accounting and marketing, I am the decision maker," he noted.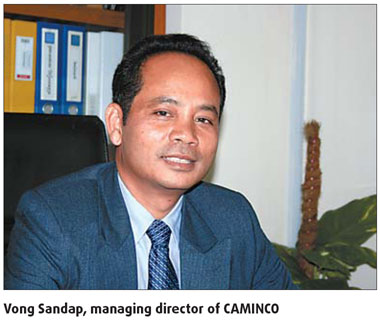 "This is important because our policy is to make it easy to compete in the market; therefore, the managing director needs to be able to make fast decisions and lead the daily operations."
The company also values investment in the development and improvement of human resources, especially in the fields of insurance, reinsurance and information technology (IT), which is aimed at further helping effective settlement of claims.
This allows its team of underwriters, claim handlers and reinsurance staffs to efficiently and professionally identify, assess, and hedge the risks faced by clients.
"We do better because we are easy to work with," Vong said. "Our clients are local people and we understand their demands."
He also drew attention to a 24-hour hotline set up by CAMINCO, as evidence of the prompt service provided by his company.
"Our clients can call anytime-Saturday, Sunday, even national holidays. Our team is always there to help."
To assist clients in time, CAMINCO has opened representative offices in Siem Reap of Banteay Meanchey province and also has a claim-handling agent in the port city of Sihanouk Ville.
In addition to its local advantages, CAMINCO has gained the support of international organizations as well.
For instance, the Asian Development Bank started a project in 2002 aimed at helping the insurance firm undertake reform and prepare for privatization. The project ended last year.
Additionally, CAMINCO has strong cooperation links with many multinationals such as Swiss Reinsurance Company, Mitsui Sumitomo Insurance Company, Tokio Marine and Fire Insurance, Toa Re, Korean Re, Jean Verheyen SA, Malaysian National Reinsurance Berhad, Best Re, General Insurance Corporation of India and Asian Reinsurance Corporation.
The extensive network of business partners worldwide allows CAMINCO to offer full coverage to clients.
"CAMINCO is a local company, but the environment in Cambodia makes it easy to cooperate with international partners who are interested in entering the market," Vong said.
National brand
Vong is proud to work for CAMINCO. "The brand name of CAMINCO is linked to the brand name of Cambodia, because our name is Cambodian National Insurance Company," he said.
"We try to make our staff enthusiastic about working for the National Insurance Company of Cambodia."
The firm increased its premium by 10 percent in 2006 and about 40 percent in 2007.
"Sector reform, staff development, competing effectively and playing a larger role in social affairs are our challenges for this year," the managing director said.
"The market share for CAMINCO will be 25 percent in five years and our brand name will be stronger than ever in all potential provinces in Cambodia," he predicted.
"At the moment the market is very small, but there is great potential here in Cambodia."
(China Daily 04/10/2008 page26)
Today's Top News
Editor's picks
Most Viewed