WASHINGTON -- The rapid appreciation of the Chinese currency against the US dollar is taking a big toll on Asian companies using China as base for exports to the United States, according to a top US business official.
The yuan has risen 18 percent against the dollar since China abandoned a peg in July 2005, and the currency breached a key psychological level of 7.0 yuan to one dollar on April 10.
The higher yuan makes US exports more competitive with Chinese goods in their home market, while business costs for largely Asian companies producing and exporting from China will rise as they pay more local currency for labor and raw materials and sell their products to the US market in dollars.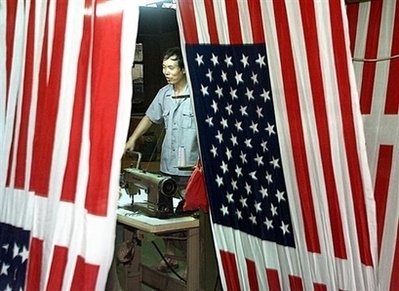 File photo shows a worker manufacturing US flags on a production line in Shanghai. [Agencies]
Meanwhile US firms manufacturing inside China, most of which aim their goods for the huge Chinese domestic market, are not as greatly affected, said US-China Business Council President John Frisbie.
"I think it is probably a bigger issue for all those companies from other economies in Asia that have invested in China for the US market," he told AFP. "And that's companies from Japan, Korea, Taiwan, Hong Kong, Malaysia and Singapore."
Frisbie said many Asian companies selling to the US market had shifted their production to China over the last 10 years or so to be more cost-competitive.
Related readings:



 Yuan appreciation dampens textile export prospects


 Yuan's rise to boost outbound tourism

 Yuan hits new high against US dollar

"I'm sure for them, the exchange rate change and other cost increases happening in China now are having an impact. That is a different set of companies than US companies, most of which invested in China for the China market," he said.
Aside from the falling dollar, the Asian companies are also reeling from the effects of a weakening American demand on the back of an economic slowdown, reports said.
The dollar has fallen about four percent to the yuan so far this year, after dropping seven percent last year.
The yuan's rise, partly permitted by Beijing to contain soaring inflation, is a bit of an irony. Beijing has been accused for years by Washington of controlling the yuan's direction and keeping it low against the dollar to make Chinese goods more competitive in the global market.
US lawmakers particularly had threatened to impose sanctions on China as the US trade deficit with the world's most populous nation sank deeper into the red.
Frisbie said that his council's view on the yuan exchange rate had been consistent in that "the best determinant of its true value should be the market."
The prices of China-made goods in the United States have gone up, but not as much as the yuan appreciation, while Chinese exports are growing much less rapidly, noted Nicholas Lardy, a China expert at the Washington-based Peterson Institute for International Economics, which recently published a book "Debating China's exchange rate policy."
Lardy said while the salience of the yuan issue in the US Congress had diminished amid the Chinese currency's appreciation, the "underlying concern" over China's massive current account surplus remained.
"We should not be looking at the bilateral renminbi (yuan)-dollar rate but at the renminbi vis-a-vis a trade-weighted basket of currencies of China's trading partners," he said.
Since mid-2005, the yuan has appreciated by 18 percent against the dollar but "it only rose by 10 percent on a trade weighted basis and this is not going to make a dent on that massive surplus," Lardy said.
In 2007 China recorded an enormous current account surplus of 378 billion dollars, or 12 percent of its gross domestic product.
However, China's inflation has kept rising, partly because of the mounting current account surplus. China's central bank needs to flood the market with more yuan bills, in order to take reserve of all foreign currencies. Expanded liquidity of the yuan has extended liquity, and made inflation worse. China's inflation hit 8 percent in the first 3 months