Panic selling pushed China's stocks to its lowest close in nearly a year, as a key indicator showed a decline in the profits of the country's largest industrial producers.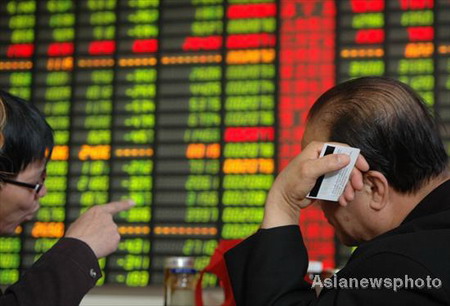 Investors talk before an electronic board at a brokerage hall in Taiyuan, North China's Shanxi Province, March 27, 2008. China's benchmark Shanghai Composite Index plunged 5.42 percent Thursday, the biggest one day loss in two months. [Asianewsphoto]
The benchmark Shanghai Composite Index tumbled 5.42 percent to end at 3,411.49 points, the lowest closing level since April 10 last year. The gauge has lost 44.3 percent from its peak of 6,124.04 in mid-October, a loss far bigger than the 20 percent needed to define a bear market in the West.
Investors' confidence was further undermined after the National Bureau of Statistics said the country's industrial producers recorded a 16.5 percent growth year-on-year in profits in the first two months, a hefty decline from the 43.8 percent increase reported for the same period last year.
Profitability of State-owned enterprises was even more worrying, as they saw a 5.6 percent decrease in profits in January and February from a year earlier. Most of the big players in China's stock market are State-owned.
That added to fears about corporate earnings, which are already affected by the rising yuan and a tightening monetary policy.
The central bank Thursday set the yuan central parity rate at 7.0130 against the US dollar, marking an appreciation of 3.7 percent so far this year, or more than 15 percent since July 2005, when China ended its peg to the greenback.
The value of the yuan will make Chinese exports more expensive, which in turn eat into the profitability of exporters.
Analysts believe the yuan's appreciation will continue in part because it will help fight domestic inflation which hit 8.7 percent in February. Policy-makers have pledged to pursue the tight monetary policy to rein in the rising cost of living and prevent the economy from overheating.
Blue chips were hit hard by profitability concerns. PetroChina, the country's biggest oil producer, nosedived 8.31 percent to close at 16.94 yuan per share, almost falling to its IPO price of 16.7 yuan in Shanghai in November.
Its rival, Sinopec tumbled 8.45 percent, while coal producer China Shenhua plummeted 9.81 percent.
Oversold financial shares continued their weak performance, with China Life falling 6.08 percent, followed by a 1.75 percent drop in the Industrial and Commercial Bank of China.