BEIJING - Chinese experts on journalism and communications have expressed disappointment with some western media's distorted reports on the riot in Lhasa and urged them to replace those reports with truthful accounts.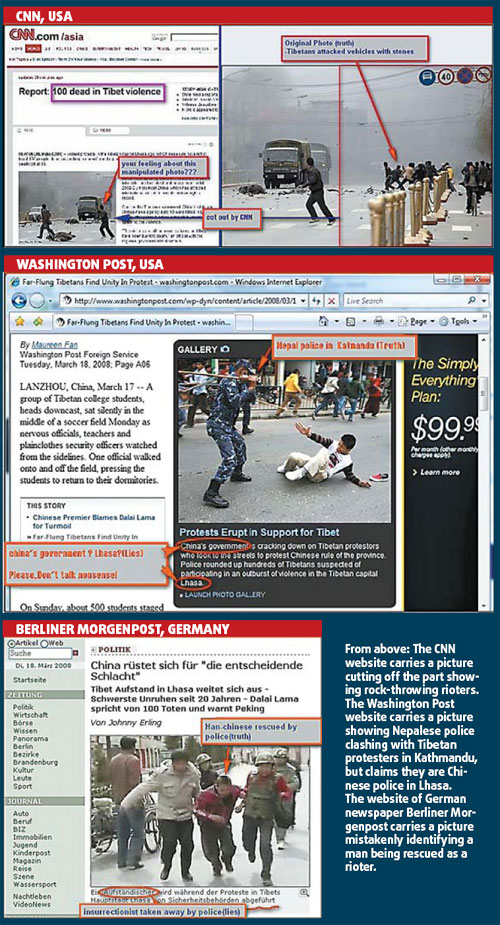 "They should make corrections and report more objectively," said Guan Shijie, professor at the School of Journalism and Communications of Peking University.
In recent days, some western media organizations were criticized by Chinese netizens for distorted coverage of the violence in the capital city of China's Tibet Autonomous Region.
Related readings:


 Residents in Tibetan-inhabited county return to normal life after riot


 Baby burned to death in Lhasa riot fire


 94 injured in Tibetan-inhabited prefecture riot


 Netizens slam CNN's distortion of riot picture

 Lhasa riot reports show media bias in West


 Tibetans mourn five young women who died in riot
Guan said that he had noticed the website of Germany's largest newspaper, BILD, published a picture of Nepalese police dispelling Tibetan protestors with sticks; however, the newspaper said it happened in Tibet.
He said the headline beside the picture -- "Should we boycott 2008 Olympics in China together?" -- exposed the newspaper's purpose.
"Some western media felt no hesitation in spreading rumors to undermine the coming Olympics," he said. He added that, in the long run, the western media want to take advantage of the riot to tarnish China's image to serve their own political interests.
He said that distorted reports violated global media ethics and severely damaged China's reputation in the international community, since it was difficult to erase readers' first impressions.
He urged such media organizations to make corrections and take responsibility for what they presented to readers. "Freedom of the press should not hamper the freedom and dignity of other people," he said.
Zhang Kai, professor of the Communication University of China (CUC), concurred with Guan. She said she had been paying attention to reports both in China and abroad since the riot on March 14 and seen some distorted and even fabricated reports.