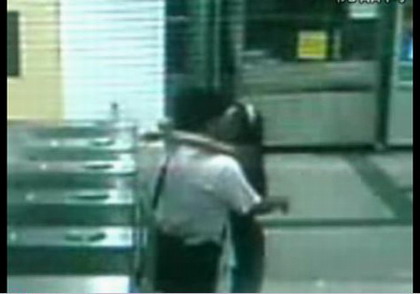 A screen picture captured from an undated video on a public video website  shows a couple kissing at a Shanghai subway station entrance. [Youku.com]
SHANGHAI: A couple videotaped kissing and hugging at a metro station is to sue the Shanghai Metro Co for allowing the video to be broadcast on the Internet, the Oriental Morning Post reported Monday.
The three-minute video of the couple in their 20s was shot in September and uploaded to Youtube.com and Ku6.com last week. Within two days, it received more than 15,000 hits, the newspaper said.
A "mocking" voice can be heard in the background of the video. It has "extremely embarrassed" the couple, the newspaper report said.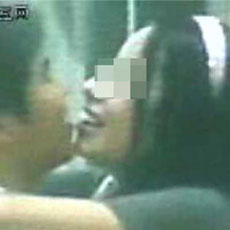 The man recently resigned from his job after receiving calls from relatives and friends. "Now, every time I walk into a metro station, I feel very uncomfortable," he said.
"We think employees of the metro station taped us illegally and made negative comments.
"What's worse, they uploaded the video to the Internet, which has infringed on our rights," the man was quoted as saying.
Following their own investigations, the couple confirmed the video was shot at the Youyi subway station on Line 3.
"We have examined the location and the circumstances," the man said.
The couple has decided to sue and a lawyer has been engaged. "This has to do with the protection of the legal rights of all passengers traveling on metro trains in Shanghai, and not simply our own interests and damage it has done to us," the man said.
In a telephone call to the Shanghai Metro Co, an unnamed official told China Daily the company is currently investigating the matter. If it is found company employees leaked the video, they will be severely punished.
Gao Fuping, a professor at East China University of Political Science and Law, said: "If it is proved the video was shot by metro company employees, they and the company, should take responsibility for the invasion of the commuters' privacy."
CCTV cameras are placed in all stations and trains for the protection of commuters. However, there is no law or regulation on the use or administration of such cameras.