The nation introduced an export tax on major grain products yesterday, a move to curb rising inflation and meet domestic demand.
Related readings:


Export rebates scrapped for agri-products


Farmers receive subsidies to buy electric appliances


 China scraps grain export tax rebates


 China to levy export tax on grain products


 China's grain subsidies up 66% amid output shortage


 China grain output exceeds 500 million tons
Two weeks after removing the tax rebate on grains, including corn, wheat and soybean, the finance ministry announced the export tariff at rates ranging from 5 to 25 percent.
Experts said the recent export controls are aimed at stabilizing domestic demand and agricultural product prices.
China is the world's largest grain consumer and also a net exporter of rice, wheat and corn. The nation exported 4.9 million tons of corn in the first 11 months of 2007, a year-on-year increase of 85.3 percent. The rice export was 1.2 million tons in the same period, up by 7 percent, according to Customs.
Ding Shengjun, a researcher with the State Grain Administration, said the measures are aimed at curbing exports and securing domestic supply.
"Many companies, attracted by soaring food prices worldwide, have increased exports last year," said Ding.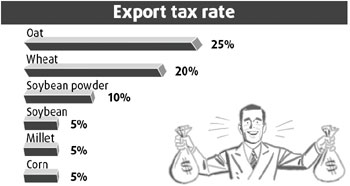 "The recent measures are a timely move to ensure supply in the domestic market," Ding said.
World grain prices have been rising since 2006 due to lower grain output and rising demand, as more agricultural products are used to make ethanol. The world's grain reserves are now at their lowest point for nearly 30 years, according to the United Nations' Food and Agriculture Organization.
Wheat and corn prices hit record highs in the past year. In September, the wheat price on the world market rose to over $400 a ton, and corn exceeded $175 a ton last year.
Domestic prices are also rising. The nation's consumer price index (CPI) reached 6.9 percent in November, the highest in 11 years. Food prices, which make up a third of the CPI basket, rose by 18.2 percent.
In another development, China has started to curb overseas sales of milled grain flour by issuing export permits.
The changes, effective yesterday, will apply to flour milled from grains, including wheat, corn and rice, the Ministry of Commerce said in a statement yesterday.
The government removed export rebates on a range of food commodities on December 20 as part of measures to secure domestic supply.