On a chilly morning in late October, 60-year-old Wu Baoge was one of the first among the group of people to queue at a Bank of China branch. His greatest wish was to get a ticket for the men's 110m hurdles final at the Beijing Olympic Games. The reason: Liu Xiang is expected to defend his Olympic gold on home soil.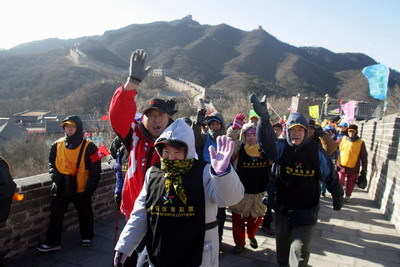 Hikers wave at photographers on the Badaling section of the Great Wall in Beijing January 1, 2008. The State Sports Administration and the Beijing Games organizing committee selected 2,008 model workers for the trek to promote a sports lottery. [China Daily]
Wu had to wait for almost five hours, till 11 am to be precise, before he could hold the pass to his dreams, due to a computer glitch that brought the online ticket distribution system to a standstill. "To see Liu win the gold again is the dream of my entire family," says Wu.
"We are confident that Liu will lead the crowd and make the long wait worthwhile."
Wu is just one of the millions of Liu fans. "I wish to see Liu Xiang become Olympic champion (again)" was high on a list of "Top 10" wishes for the 2008 Games in an Internet survey.
It was followed by "Becoming a torchbearer for the Beijing Games" and "Watching the Olympics opening and closing ceremonies with family and friends".
In the past seven years, during which Beijing has been preparing for the big occasion, the Games has not only climbed high on people's wish list, but also influenced their lives. "The Games has become part of people's lives here," says Jin Yuanpu, executive president of Renmin University of China's Humanistic Olympics Studies Center.
"To prepare for the Games, Beijing has also taken measures to improve people's living conditions, benefiting more and more people." Two-thirds of the people polled in the Net survey agreed that Beijing had already improved people's living conditions and the urban environment. The survey was conducted by Sanfront Information Technology and was released by www.163.com in October.
Beijing spent about 283 billion yuan ($38.7 billion) from 2002 to 2006 to impr ove urban infrastructure - building and bettering transport facilities, and energy and other projects. For example, the 27-km No 5 metro line, which opened in October, has cut traveling time from southern to northern Beijing by almost half.
The effects of the Games will be felt even after the Olympics year because by 2015 Beijing is likely to have a 561-km long metro network, enabling people in downtown to board an underground train within a 1-km radius.
Thanks to the efforts of the entire society, people are already enjoying better transport, cleaner air and streets, and friendlier treatment from fellow residents. This has been made possible by the education programs for the people.
"Hosting the Olympics has helped a lot in improving residents' behavior and attitude, and making society more harmonious," Jin says.
Another survey, conducted by Olympics' global partner Visa among its cardholders, shows more and more Chinese believe the Games will bring economic and financial benefits to the country. Released in October, too, the Visa survey covered 1,300 people in Beijing, Shanghai, Guangzhou and Shenzhen from July to September.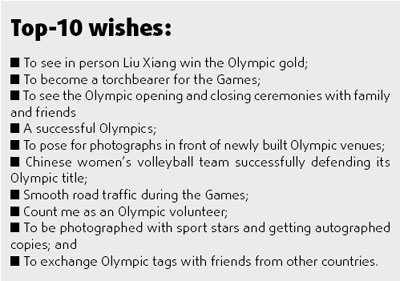 About 78 percent of the respondents in the 20-45 age group, who have a family income of more than 1,250 yuan ($166) a month, said the Games would have a positive impact on the city and people. Only the previous month their percentage was 68 percent.
The "Top 10" wish list survey, organized by the Internet Affairs Bureau of the State Council Information Office, ran from November 22, 2007, to December 21, 2007, and covered 1,063,954 netizens in 49 countries and regions, including China, the US, Britain, France, Russia, Japan and Germany.
"Counting me as an Olympic volunteer", too, received a lot of votes. Up to December 4 last year, more than 760,000 people had applied for the 100,000-member Games volunteer team. About 830,000 people alone applied to be made urban volunteers.
"I've applied for a volunteer's job, and I'm improving my English," says Liu Dan, a psychology major in Beijing's Capital Normal University. "One of my New Year wishes is to see a successful Beijing Olympics." Liu's wish is part of the "Top-10" list, too.
"We are very excited," says Jiang Xiaoyu, executive vice-president of the Beijing Organizing Committee for the Games of the XXIX Olympiad (BOCOG). "I hope the Games are here soon so that we can fulfill the task our people have given us. With the support of all the Chinese people, we are confident of overcoming all difficulties and hold a high-level Olympic Games."