Chinese President Hu Jintao on Tuesday once again stressed the importance of reform and innovation so as to implement scientific concept of development and promote social harmony in 2008.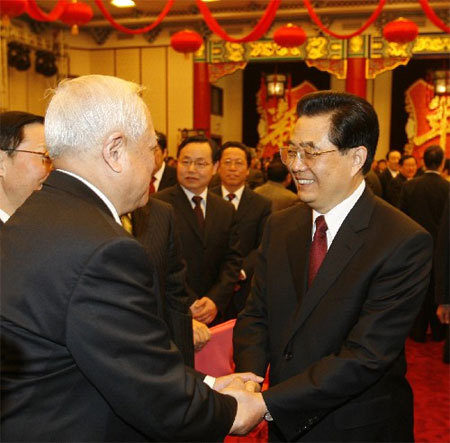 Chinese President Hu Jintao shakes hands with a guest at the New Year's Day gathering held by the National Committee of the Chinese People's Political Consultative Conference in Beijing on January 1, 2008. [Photo: Xinhua]
To fulfill all the tasks of 2008, China should "unswervingly stick to the direction of reform and step it up in key areas" and establish a system helpful to scientific development and innovation, Hu said in a speech.
Hu made the speech at the New Year's Day gathering held by the National Committee of the Chinese People's Political Consultative Conference (CPPCC).
The year 2008 marks the 30th anniversary of China's reform and opening up, which Hu said is a "great reform the Chinese people make under the leadership of the Communist Party of China (CPC) and a great course that has historical significance for both the Party and the country."
In his New Year Address on Monday, Hu described the reform as a "crucial option that determines the fate of contemporary China and has brought historic changes to socialist China."
Hu said China will have a systematic review of the three-decade reform in 2008 to grasp its significance.
The year 2008 is an important year for maintaining the stable situation the reform has brought about, Hu said, adding that "China is facing unprecedented opportunities and challenges."
He called on Chinese people to be on guard against conceit and rashness and to continue to strive for new achievements.
Hu also said in 2008 China would continue to curb the rise of product prices, enhance environment protection, expand socialist democracy and step up efforts to improve people's livelihood.
"We will continue to adhere to the principle of 'One Country, Two Systems' and 'Hong Kong people governing Hong Kong, Macao people governing Macao with a high degree of autonomy'. We will join hands with compatriots in Hong Kong and Macao to safeguard the long-term prosperity and stability of both regions," he said.
"We will also adhere to the basic principle of 'peaceful reunification and one country, two systems' ... oppose secessionist activities, work for the wellbeing of compatriots on both sides of the Taiwan Straits and strive for peace in the region."
All members of the Standing Committee of the Political Bureau of CPC Central Committee were present at the gathering. Other participants included leaders of the eight democratic parties and All-China Federation of Industry and Commerce, personages without party affiliation and delegates from various walks of the society.
The gathering was presided over by Jia Qinglin, chairman of the CPPCC National Committee.