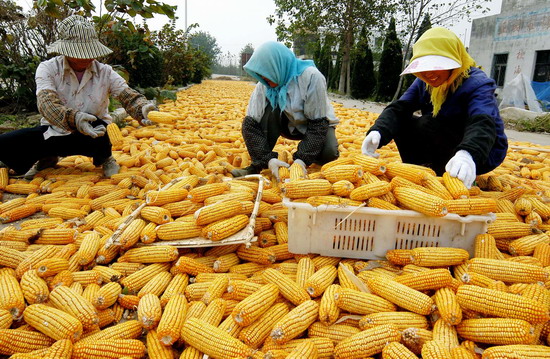 Farmers sun-dry corn in Lianyungang, Jiangsu Province, October 18, 2007. China will scrap export tax rebates on major grains including wheat, corn and soybean as of December 20, 2007 to ease rising food prices by discouraging exports.  [newsphoto]
The government will scrap export tax rebates on major grains, its latest move to ease rising food prices and inflation.
Rebates will be dropped for grains including wheat, corn and soybean as well as their flour products, the Ministry of Finance said on its website.
The current 13 percent tax rebate will be removed as of Thursday, the ministry said.
The move is a bid to combat the nation's rising consumer prices. China's inflation rate reached 6.9 percent in November, the highest in 11 years. Food prices, which make up a third of the consumer basket, rose by 18.2 percent.
The government began selling State reserves of corn and wheat earlier this year to meet domestic demand and control prices. It will sell 500,000 tons of corn from its reserve today, after selling the same amount last week.
The government stopped corn and wheat exports in the second half of the year to meet domestic demand.
China is the world's largest grain consumer and also a net exporter of rice, wheat and corn. The nation exported 4.9 million tons of corn in the first 11 months of the year, a year-on-year increase of 85.3 percent. The rice export was 1.2 million tons in the same period, up by 7 percent, according to Customs figures released yesterday.
That's a small proportion of the world market and a reduced grain export from China will make little difference globally, according to analysts.
This year has seen a tight supply of grains and surging agricultural product prices worldwide. In September, the wheat price on the world market rose to over $400 a ton, the highest ever. Earlier this year the price of corn exceeded $175 a ton, also a record high.
The rise in food prices is partially driven by increased ethanol demand and poor crops in major production areas.
US wheat futures surged more than 3 percent yesterday and surpassed $10 a bushel for the first time as strong US export numbers and dwindling world supplies prompted funds and investors to rush to cover positions, Reuters said yesterday.
But the domestic supply of agricultural products remains steady. China's grain production is expected to top 500 million tons this year, increasing for four straight years since 2004, according to statistics from the Ministry of Agriculture.
China has reached a balance between grains supply and demand, according to Zeng Liying, vice-president of the State Grain Administration.
The State reserves have increased to record-high levels. "The harvest this year plus the rich reserves can fully meet the demands of the domestic market," Zeng said last week.