China and Japan are actively making preparations for Japanese Prime Minister Yasuo Fukuda's upcoming visit, Foreign Ministry spokesman Qin Gang said Tuesday without confirming media reports that the four-day trip is set to start on December 27.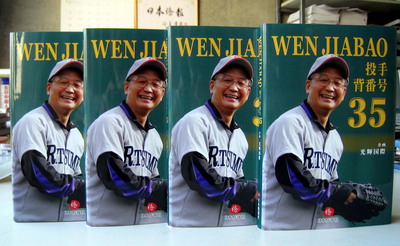 Wen Jiabao, Pitcher No. 35, a book documenting the premier's ice-breaking visit to Japan this year, went on sale in Japan December 18, 2007. During his visit in April, Wen played baseball with Ritsumeikan University students in which he wore a baseball outfit with the number 35 to symbolize the 35th anniversary of the normalization of diplomatic relations between the two countries. The book has been published to commemorate the milestone. [China Daily]
"Prime Minister Fukuda expressed his hope of visiting China late this year or early next year. The two sides are actively discussing the issue. Once the date is fixed, we will release the information in due course," Qin told a regular news briefing.
Japanese media Tuesday quoted government sources as saying Fukuda was to make his first visit to China as prime minister on December 27 - three months after taking office - to reaffirm with Chinese leaders the goal of strengthening collaboration in the economic, energy and environmental fields.
It will be the first visit by a Japanese prime minister since Fukuda's predecessor Shinzo Abe visited Beijing on his first prime ministerial foreign visit in October last year.
Fukuda is considering visiting Qufu, the hometown of Confucius, and other Chinese cities during his four-day visit, Japanese media reports said.
In foreign ministerial-level talks between the two sides in Beijing this month, Japanese officials expressed the hope that a resolution to long-lasting disputes over gas exploration in the East China Sea would form the centerpiece of Fukuda's visit.
Fukuda held talks with Premier Wen Jiabao in Singapore last month on the sidelines of Southeast Asian summits; and Beijing and Tokyo also hope to schedule a visit by President Hu Jintao to Japan next spring.