BEIJING -- China announced on Tuesday the setting up of a national oil reserve center, the top economic planning agency confirmed.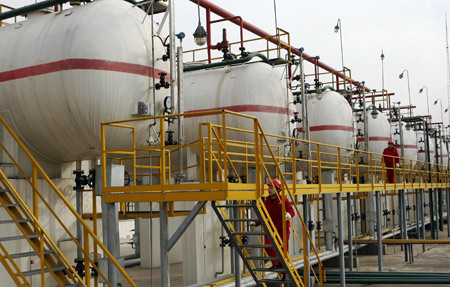 Workers of the No. one oil extracting unit of the Changqing oilfield inspect oil tanks in Yan'an, northwest China's Shaanxi province, Dec. 16, 2007. China announced on Tuesday the setting up of a national oil reserve center. [Xinhua]
China started a state strategic oil reserve base program in 2004 as a way to offset oil supply risks and reduce the impact of fluctuating energy prices worldwide on China's domestic market of refined oil.
Related readings:


 Chinese oil reserve to quadruple in three years


 More oil reserve bases to be built


 Major discovery increases oil reserve


 Oil reserve to equal 30 days imports
With the approval of the Chinese government, the center was officially launched on Tuesday, said the National Development and Reform Commission, which oversees a wide-range of social and economic affairs, including energy.
The center, the administrative body of the country's national oil reserve system, takes the responsibility of building and making use of the country's strategic oil reserves, the commission said in a statement.
The commission said the center will also keep an eye on the movement of demand and supply of both domestic and international oil markets.
The NDRC said the country has decided to establish four strategic oil reserve bases in Dalian, Qingdao, Ningbo and Zhoushan, respectively. All of the bases are on the coast. The first one in Ningbo, eastern China's Zhejiang Province, has started to stock up on oil.
They are designed to maintain strategic oil reserves of an equivalent to 30 days of imports, or about 10 million tonnes.