BEIJING -- Chinese President Hu Jintao on Friday called for the expansion and deepening of cooperation with Japan and boosting of bilateral relations to a new level.
"The two sides should maintain friendly exchange at various levels, expand and deepen pragmatic cooperation, settle well bilateral disputes through dialogue and equal consultation and continue to expand the mutual benefit between the two nations in an effort to boost bilateral relations to a new level", Hu said.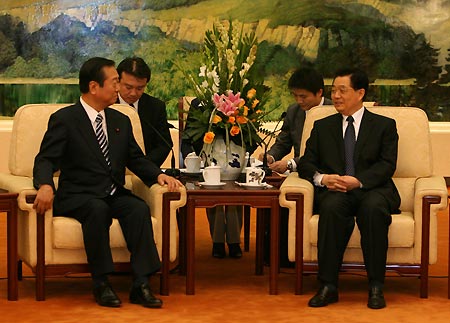 China's President Hu Jintao (R) meets with Ichiro Ozawa, president of the Democratic Party of Japan (DPJ), who headed a 450-member Japanese delegation of the "Great Wall" Program at the Great Hall of the People in Beijing, December 7, 2007. [Xinhua]
Hu made his remarks in his meeting with Ichiro Ozawa, president of the Democratic Party of Japan (DPJ) at the Great Hall of the People in downtown Beijing.
He highlighted the recent growth momentum of bilateral relations, saying that the development of bilateral relations yielding from the joint efforts from the two sides was of great value.
Hu added that the next year is the 30th anniversary of the signing of the peace and friendship agreement between China and Japan, which is a highly important year for the development of the bilateral relations.
Ozawa, who heads a 450-member Japanese delegation, said that Japanese people highly appreciate China's commitment to the Japan-China relations, expressing his hope to seize the opportunity to boost mutual understanding and trust between the two peoples.
Related readings:


 President Hu to visit Japan next year - FM


 China, Japan to fight climate change jointly


 China, Japan confirm new mechanism for long term co-op

 China, Japan to further food safety cooperation

 2nd China-Japan economic dialogue to open next year


 Japan firms can enjoy better turf


 Premier Wen calls for closer Sino-Japan economic ties


 China to improve investment environment for Japan firms


 China, Japan, South Korea leaders meet to strengthen co-op
The booming of a strong relationship between Japan and China not only serves the two nations, but is also vital to the stability and prosperity of Asia and the world at large, Ozawa told Hu.
Prior to his meeting with Hu, Ozawa also met Wang Jiarui, head of the International Department of the Communist Party of China (CPC) Central Committee.
The delegation of DPJ and the 15th "Great Wall" programme comprises 47 Japanese DPJ Dietmen and representatives from various circles of Japanese society.
Former Japanese Prime Minister Tsutomu Hata is also with the delegation.
During their stay in Beijing, President Hu will meet with the delegation. DPJ Dietmen will also attend a meeting of a regular exchange mechanism between DPJ and CPC.
Initiated in 1989, the "Great Wall" Program, a people-to-people exchange scheme, has been participated by more than 200 Japanese Dietmen and 2,000 Japanese people from various social circles through visits to China.