A planned nuclear power plant in East China has generated controversy among local residents who allege the facility will mar the beauty of a coastal area and pose a potential environmental threat.
The Rushan Nuclear Power Plant, which is designed to include six megawatt generation units, is scheduled to become operational by 2015.
Its planned location southeast of Shandong Peninsula in the Yellow Sea, however, is at the center of the controversy, because it is only a few kilometers away from a popular holiday resort.
The Yintan National Tourism Resort, dubbed the "Oriental Hawaii" for its picturesque scenery, is home to more than 100,000 permanent residents. The number triples in summer, when Beijing and Tianjin residents flock to their seaside holiday homes in the region.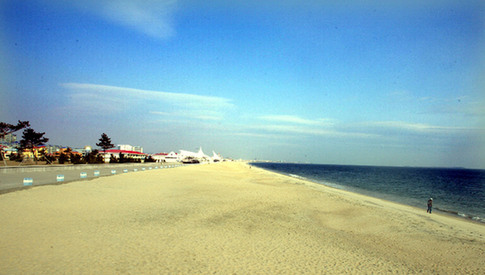 A view of Yintan National Tourism Resort [Xinhua]
Residents have voiced concern over the planned nuclear power plant since 2005, when the Shandong provincial government unveiled the plan.
"It's very ridiculous to build a nuclear power plant in such a densely populated area with such a beautiful seascape," said netizen "Monica" on the online forum No Nuclear in Yintan, which attracts more than 1,000 local visitors regularly.
According to the initiator of the forum, a local resident and law professor surnamed Wu, the Rushan Nuclear Power Plant is "only five kilometers from Yintan and zero kilometers from the sea".
Local residents' concerns grew when they learned there are three nuclear power plants planned along the province's 120-kilometer coastline.
The State Environmental Protection Administration (SEPA) on Thursday posted a statement on its website saying the project must be examined and approved by the administration before construction could begin.
The national environmental watchdog confirmed it had not received any application from the local authority.
"If the authoritative evaluation report shows the locale is not appropriate, the project will be canceled," said Wang Yongxiao, a senior official with the project.
"The nuclear power plant is not that horrible, and the residents must have some understanding of the project."
Wang said they were soliciting public opinion about the plant among local residents.
Residents said the project's officials hastened the solicitation of public opinion to precede a SEPA draft regulation scheduled to be finished around December 15. The regulation could stipulate that the newly planned nuclear power plant not be located too near the tourist resort.
The local government said last year the plant would guarantee Shandong a safe and reliable energy source to support its economic growth.
Four Chinese companies - China Nuclear Engineering and Construction (Group) Corporation (CNECC), Shandong Luneng Development Group Co Ltd, Huadian Power International Corporation Ltd and Shandong International Trust and Investment Corporation - invested in the project, in which CNECC owns a 51-percent stake.
Xinhua