China and Japan will help build a new framework to fight climate change after the Kyoto Protocol expires in 2012, says a press communiqu issued Monday by the first China-Japan high-level economic dialogue in Beijing.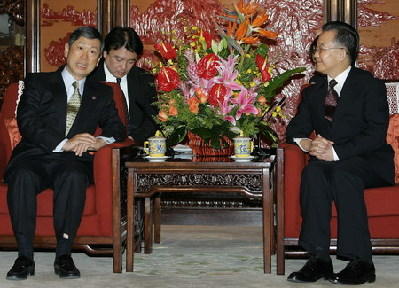 Premier Wen Jiabao meets with Japanese Foreign Minister Masahiko Komura at Zhongnanhai in Beijing December 2, 2007. [Agencies]
The two countries have agreed to strengthen partnerships in energy conservation, environmental protection, food safety and protection of intellectual property rights.
They have pledged to work jointly to tackle global warming under the UN Framework Convention on Climate Change and want the post-Kyoto framework to be an effective mechanism of which all major economies should be a part exhibiting "responsible" attitudes, the communiqu says.
The two countries' pledge comes at a time when world leaders are meeting at the UN Climate Change Conference in Bali, Indonesia.
Asserting that their economic ties were mutually beneficial, China and Japan agreed to promote their strategic relationship by pushing for greater cooperation in the field of energy - energy conservation and use of clean energy, environmental protection, and the protection of intellectual property rights, the communiqu says.
The two countries also agreed to solve issues of common concern, such as food safety and export of pumpkins and beef, mutton, venison to Japan, as well as rice exports to China, through technical negotiations by the end of next March.
China and Japan began their first high-level economic dialogue in Beijing on Saturday. Premier Wen Jiabao and then Japanese prime minister Shinzo Abe jointly launched the dialogue mechanism during Wen's visit to Japan in April.
Vice-Premier Zeng Peiyan led the Chinese side to the dialogue, while Japanese Foreign Minister Masahiko Komura headed his country's delegation.
Komura meets with Hu
At a meeting with Komura and other Japanese delegates on Monday, President Hu Jintao said the dialogue is a "success". Komura's visit will surely play "a significant role" in promoting bilateral ties, Hu said.
Developing long-term, stable and good-neighborly ties conforms to the interests of the two countries and their peoples, Hu said. It is also beneficial to peace, stability and development of Asia and the world at large.
"Having closer coordination and cooperation in regional and international affairs helps the two sides to jointly tackle such global challenges as climate change, energy security and environmental protection and benefits the well-being of the two peoples and the world as well," he said.
The cabinet-level meeting was the most comprehensive top-level dialogue since diplomatic relations between the two countries were normalized 35 years ago. The dialogue comes a week after Wen met with Prime Minister Yasuo Fukuda in Singapore at the Association of Southeast Asian Nations (ASEAN) meetings.
Another sign of the warming Sino-Japanese ties was the visit of a Chinese warship to Japan last week. The development was the first of its kind since World War II.
Komura said the Japanese side is gearing up for Fukuda's visit to China, which is likely to take place later this month or in early January.
Japan hopes President Hu will visit Japan as early as possible, Komura said. At a news conference in Beijing Monday, a Japanese Foreign Ministry spokesman said Hu has expressed his wish to visit Japan early next year.
Democratic Party of Japan (DPJ) President Ichiro Ozawa will visit China this week, the Japan Times reported Monday. The opposition party leader is scheduled to be in Beijing on Thursday on a three-day visit. He will meet with Hu on Friday.