The government is to provide extra funding to help preserve 100 of the country's best-known historical sites, a top cultural official said last week.
Included on the list are the ruins of the ancient capitals of Xi'an and Luoyang, key sites along the Xinjiang section of the Silk Road, the Great Wall and the Beijing-Hangzhou Grand Canal, Shan Jixiang, director of the State Administration of Cultural Heritage, said on the sidelines of the National Archaeology Conference in Beijing on Friday.
"The preservation of historical sites is the most challenging part of cultural heritage protection," he told China Daily.
"The next few years will be a critical time for these sites because of the ongoing urbanization."
In recent years, China's cities have undergone huge changes with many of their older quarters being completely reshaped, often to the detriment of their cultural heritage, Shan said.
There is a desperate need for a better approach to archaeological work to ensure the nation's heritage is protected, he said.
One of the first steps should be to rescue relics buried beneath cities. Heritage protection zones should then be set up on the basis of archaeological finds and historical documents, so that relics within them have a better chance of survival, he said.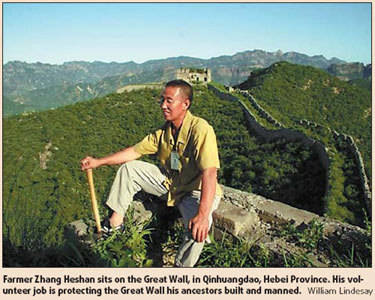 "It is absolutely essential that archaeological investigations and excavations are made before any construction project gets under way.
"But archaeologists are all too often ignored," he said.
An archaeologist from the Beijing municipal cultural heritage administration, who asked not to be named, supported Shan's view.
"Archaeologists in Beijing are following bulldozers," he said, adding that over the past two years, he and his colleagues had found more than 700 ancient tombs on the sites where Olympic stadiums are being built.
The tombs date back to the Han (206 BC-AD 220), Tang (AD 618-907), Ming (1368-1644) and Qing (1644-1911) dynasties, he said.
In addition, more than 1,500 cultural relics, including gold, silver, copper, ceramic and jade artifacts, had been unearthed, he said.
However, Shan said one of the problems was that in the past, archaeologists have been slow to publish the details of their finds. This led to criticism and even suggestions they were keeping the information to themselves.
He said the situation had improved in recent years, but added that reports on finds at more than 270 sites were still outstanding.