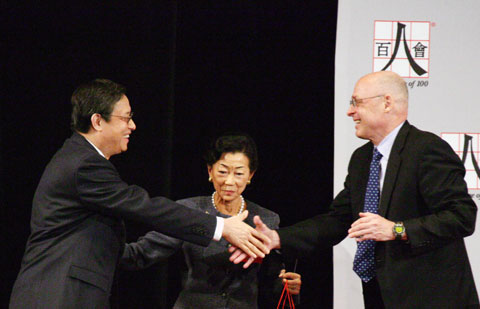 Zhou Wenzhong (L), Chinese ambassador to the United States, extends to shake hands with Treasury Secretary Henry Paulson in New York in this April 20, 2007 photo. [Xinhua]
ANN ARBOR, Michigan -- China's plans to quadruple the per-capita income of its 1.3 billion people by the year 2050 presents a "win-win" opportunity for the world's economy, Chinese US Ambassador Zhou Wenzhong said Monday.
But Zhou said the threat of US trade protectionism and congressional backing for Taiwan's independence threaten to undermine the vital US-China relationship.
"Both the US and China should oppose Taiwan's independence," he told a respectful and remarkably sedate University of Michigan audience.
"The Chinese people have an acute understanding of the meaning of freedom and peace," Zhou said. "Peaceful development is the one and only path for developing the nation."
Zhou, 62, has been a vigorous and widely traveled US representative for China, giving a series of addresses in Oregon, Wyoming and Washington state in August, during which he addressed several of the key sources of friction between the two nations.
In response to a series of health scares regarding Chinese-made toys and food imports, Zhou said his government was stepping up efforts to ensure their safety.
He criticized Congress for filing dozens of bills targeting China on a range of trade issues, including product piracy, the Chinese trade surplus and currency exchange policies.
"The growing protectionist sentiments ... are particularly worrisome," Zhou said. "Issues and frictions are hardly avoidable, (but) protectionism or politicizing trade should never be an option."
Zhou said China's economy grew at an average annual rate of 9.6 percent from 1978-2006, and its gross domestic product increased from $147.3 billion to $2.8 trillion.
But he also said China has a long way to go, with a per capita income in 2006 of $2,100 compared with the US' $43,867.
"China ... follows a win-win strategy ... with all other countries," he said. "China's development is an opportunity for the world."

Zhou disputed claims that China is protectionist but said it will move to "open itself wider to the outside world.
"It has become one of the most open economies in the developing world," he said.
During a visit to the University of Washington, the school announced it was opening an office in China as liaison with the Chinese government and Chinese universities and to serve Washington students studying in China.