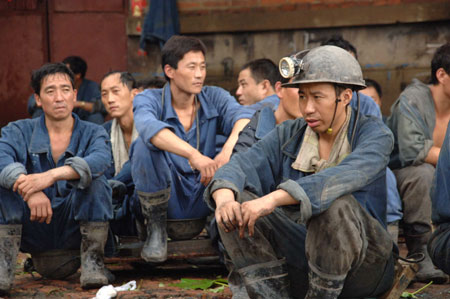 Rescuers take a rest outside a flooded coal mine in Xintai City, East China's Shandong Province, Aug. 18, 2007. One hundred and seventy-two miners were trapped in a flooded coal mine in Xintai, authoritative sources said on Saturday morning. [Xinhua]
Nearly 7,000 rescuers were racing against time Sunday to pump water out of two flooded coal mines in Shandong Province to save the 181 miners trapped underground - but officials said most have a slim hope of survival.
The miners have been trapped since Friday afternoon when a dike on the Wenhe River burst, sending water rushing into a mine of Huayuan Mining Co, stranding 172 miners, and into a nearby shaft, where nine more miners were trapped.
Before thousands of soldiers and residents had sealed the 50-meter gash in the levee early yesterday - using sacks of cement, trees and even trucks - the water had almost completely filled the 860-meter-deep mine, officials said.
"As of noon on Saturday, the water had risen to within 20 meters of the mine opening," Zhang Dekuan, spokesman for the Shandong provincial government, told reporters in Xintai.
"We must increase the volume and the speed of water removal to create the conditions for a rescue."
Despite the length of time the miners have been trapped, Zhang said "there is some hope and we will exert 100 percent, 1,000 percent, effort to rescue them."
Rescuers yesterday managed to install 11 water pumps rushed to the coalmine from Henan, Hebei and Shanxi by dusk, but the task is not easy as water in the shaft belonging to Huayuan Mining is more than 12 million cu m and in the nearby Minggong coal mine, 145,000 cu m.
"The total drainage capacity will reach 6,000 cu m per hour after all the water pumps are put into operation," a rescue official said.
Drilling equipment from Shengli Oil Field, a major oil and natural gas producer in Shandong, has been installed at the coal mine, ready to bore a hole into the flooded shaft to help with the rescue effort.
President Hu Jintao and Premier Wen Jiabao on Saturday ordered all-out efforts in rescue work.
State Councilor Hua Jianmin, Li Yizhong, head of the State Administration of Work Safety (SAWS), and Zhao Tiechui, director of the State Administration of Coal Mine Safety, rushed to the site to co-ordinate the rescue efforts.
The Shandong provincial government yesterday allotted a special fund of 10 million yuan ($1.3 million) for the rescue work.
Torrential rain swept Xintai, a county about 150 km south of the provincial capital Jinan, on Friday and early Saturday, triggering flash floods which slashed the breach in a levee of the swollen Wenhe River.
Floodwater from the river poured into the Huayuan mine at 2:30 pm on Friday through an obsolete shaft.
A total of 756 miners were working underground at the time of the flooding and 584 managed to escape, said Xu Qinyu, general manager of the company.
Most of the trapped workers are from rural areas in Tai'an City and surrounding areas, said Wang Junmin, vice-governor of Shandong.
Xinhua quoted Wang as saying the chances of survival for about 150 miners trapped at a lower place in the shaft was "very slim".
The rescue headquarters ordered all coal mines near the banks of the Wenhe River to stop production and evacuate all miners.
About 200,000 residents in low-lying areas downstream of Wenhe River were evacuated.
Huayuan Mining is a licensed enterprise with an annual capacity of 750,000 tons. The flooded mine was built in 1957.
Earlier this month, all 69 miners trapped in a flooded coal mine in Henan Province for three days were rescued in one of the most successful rescue operations in China.
SAWS figures showed that 2,163 coal miners were killed in 1,320 accidents in the first seven months of this year.
China's worst mine disaster was in 2005, when a gas explosion killed 214 miners in Northeast China's Liaoning Province.
Xinhua and agencies contributed to the story