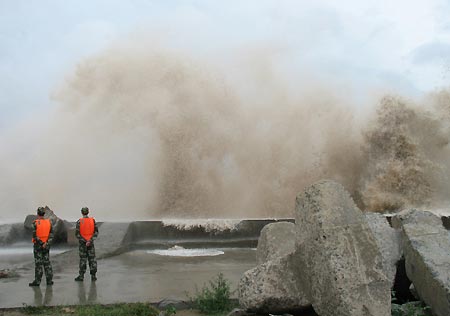 Policemen guard the sea wall at the Yuhuankanmen Port in Yuhuan, east China's Zhejiang Province, August 18, 2007.The Southeast China provinces are girding for the imminent Typhoon Sepat with cancellation of flights, evacuations of ships, boats and more than half a million people. [Xinhua] 
At least 15 people were killed after Typhoon Sepat landed on the Chinese mainland early yesterday, and about 1.02 million were evacuated, local authorities said on Sunday.
In East China's Zhejiang Province, the typhoon spawned a tornado which smashed buildings and killed 12 people in Cangnan of Wenzhou and seriously injured six.
Sepat - named after a Malaysian fish - dumped rainfall of 40 mm per hour on Wencheng County in Wenzhou, disrupting power supply in eight townships and villages.
The typhoon ruined 28,700 hectares of crops, wrecked 342 km of power supply lines and affected 1.98 million people across the province, resulting in direct losses of 4.45 billion yuan ($585 million).
In neighboring Fujian Province, it caused a landslide that killed two people and left one missing. A rail station collapsed and six carriages of a cargo train were derailed.
Losses amounted to 1.15 billion yuan ($151 million) across the province.
The typhoon inundated 56,460 hectares of crops, destroyed 3,200 houses and cut off road traffic and power supply in some regions, affecting 1.57 million people.
It kept raining in many parts of Fujian yesterday and local weather authorities forecast that the wet weather will continue in the next two days, even after Sepat leaves the province.
Fuzhou, the provincial capital, was shrouded by dark clouds throughout the day. Shops were closed and traffic was thin. Cleaners and police were clearing broken tree trunks and branches from roads.
Xiamen Airlines cancelled all its 28 flights to and from Fuzhou on Saturday; but the service resumed yesterday.
Sepat is the ninth, and most ferocious, typhoon to hit the country this year. It formed near the Philippines on August 13 and traveled southwest in the Pacific, according to Yang Guiming, researcher at the Central Meteorological Observatory (CMO) in Beijing.
But on Wednesday, it suddenly changed direction to the northwest and hit the eastern coast of Taiwan on Saturday morning.
More than 300,000 households on the island had their electricity cut off. At least one was killed in coastal Hualien when a car overturned and fell into a steep valley.
Sepat continued on its northwest course and landed in Hui'an County of Quanzhou, Fujian Province, at 2 am yesterday.
It hit the Zhejiang coast several hours later; and the CMO forecast that it would reach inland Jiangxi Province early this morning.
Xinhua, agencies contributed to the story