WENZHOU -- One more person was killed by landslide in east China's Zhejiang Province, bringing the death toll from typhoon Sepat to 15 with four others reported missing, said local sources on Sunday.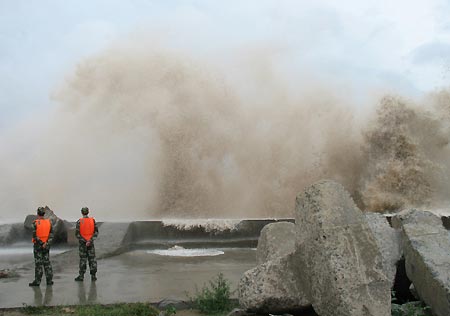 Policemen guard the sea wall at the Yuhuankanmen Port in Yuhuan, east China's Zhejiang Province, August 18, 2007.The Southeast China provinces are girding for the imminent Typhoon Sepat with cancellation of flights, evacuations of ships, boats and more than half a million people.[Xinhua] 
The new victim was a man in his 40s, who was riding in a van in Cangnan County. Landslide triggered by downpour knocked the van with 19 on board off the road and tossed it over. Eighteen managed to escaped, two of whom were injured and under medical treatment.
Mud-rock flows hit a construction site in Cangnan, where three workers in a shanty were washed into a 50-meter-deep reservoir. Search and rescue efforts are underway.
A farmer named Lin Jinxiang in Wuyelinggen village of Wencheng County was killed by as her house collapsed. Evacuated before the landfall of the typhoon, she returned to her house on Sunday morning.
Sepat brought rainfall of 40 millimeters per hour to Wencheng County, disrupting power supply in eight townships and villages.