Just in:
FUZHOU -- Two people were killed and one was missing in a landslide triggered by typhoon Sepat which landed in east China's Fujian Province early Sunday morning, said flood control authorities with the province on Sunday.
The three victims were in central Fujian's Minhou County, where torrential rains unleashed by Sepat triggered the landslide and tore down houses. Detailed information is not yet available.
Downpour also hit the Minqing County to the west of Fuzhou, Fujian's capital, where the Daruo train station collapsed, causing derailment of six carriages of a cargo train.
Typhoon Sepat, the ninth for this year that landed in Chongwu town, Hui'an county of Quanzhou City early Sunday morning, lashed the central and northern parts of the province with gale and rainstorm. Rainfall from 8 am Saturday to 8 am Sunday reached 200 millimeters in 11 of Fujian's 95 counties, cities and districts and exceeded 300 millimeters in two regions.
The typhoon damaged 366 houses in Quanzhou, destroyed crops on 5,920 hectares of land, cut off power supply lines on 5.7 kilometers and harmed 139 water control projects, affecting 162,600 people and inflicting an economic loss of 72 million yuan ($9.5 million).
Neighboring Zhejiang Province also saw gales and heavy rains. By 6:00 am Sunday, a total of 198 houses were toppled down in Wenzhou City with 475,912 people affected, causing an economic loss of 138.35 million yuan ($18.2 million) in the manufacturing city.
As it roars on, Sepat is expected to arrive at Jiangxi Province by Sunday but has weakened to strong tropical storm.
Air traffic has resumed in Fujian, according to sources with the Xiamen Airlines. A total of 179 flights shall be in service on Sunday.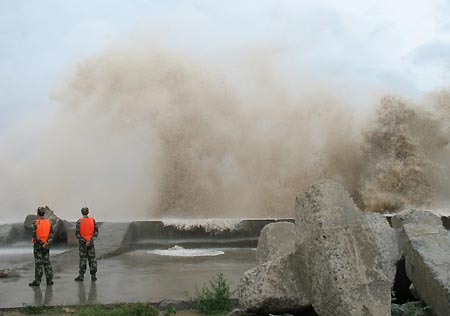 Policemen guard the sea wall at the Yuhuankanmen Port in Yuhuan, east China's Zhejiang Province, August 18, 2007.The Southeast China provinces are girding for the imminent Typhoon Sepat with cancellation of flights, evacuations of ships, boats and more than half a million people.[Xinhua] 

Over 900,000 evacuated
FUZHOU -- Typhoon Sepat packing winds of 119 km per hour landed in east China's Fujian Province at 2:00 am Sunday, said the Fujian provincial meteorological station.
Before the landfall in Chongwu town, Hui'an county of Fujian, Sepat landed in Hualien, the central-eastern part of Taiwan around 5:40 am Saturday, with sustained winds of 180 kilometers per hour.
Power cut for thousands of households and downpours were reported in many parts of the island.

Sepat also brought downpours to Hui'an with 50-80 mm of precipitation in hours, according to the local meteorological station.
Some buildings in Hui'an were damaged, roofs lifted while billboards and trees were toppled down, an official with the Hui'an office of flood control.
The official said the typhoon was expected to cause more damages in the county.
It rained heavily in the Fujian cities of Ningde, Fuzhou, Zhangzhou and Quanzhou early Sunday morning, according to the Fujian provincial meteorological station.
Sepat was moving northwest and was expected to arrive in Jiangxi Province on Sunday afternoon, said an expert with the Fujian meteorological station.
More than 900,000 people in the southern Guangdong Province and the eastern provinces of Fujian and Zhejiang have been relocated to safety before the arrival of Sepat.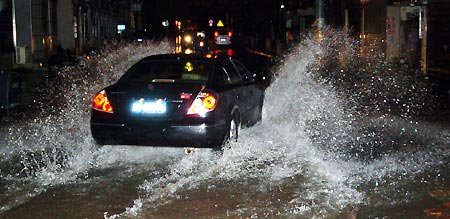 A car wades ahead in the flood water as typhoon Sepat lands with heavy winds and downpours in Cangnan county of the coastal city of Wenzhou, east China's Zhejiang Province on August 18, 2007. [Xinhua] 
The provincial meteorological station has issued the highest-level warnings for Sepat.
More than 540,000 people in Fujian have been relocated to safe places by 7:00 pm Saturday, according to government officials.
All entries of expressways in Fuzhou, capital of Fujian, were closed, while 109 domestic and international flights at the Fuzhou airport were cancelled on Saturday. Xiamen and Jinjiang cities also cancelled outbound flights.
The Ministry of Civil Affairs have sent 3,000 tents to evacuated people in Fujian.
Downpours have been forecast to hit the coastal areas of Fujian and neighboring Zhejiang Province starting from Saturday night.
Passenger liners shuttling from Fujian to Taiwan have been suspended since Friday afternoon and it is undecided when services will resume.
In Zhejiang Province, nearly 300,000 people had been evacuated to safety and 27,704 vessels back to harbor by 6:00 pm Saturday.
Rain with precipitations of up to 87 millimeters hit Wenzhou, Pingyang, Taishun between Friday afternoon and Saturday.
Three large reservoirs in Wenzhou discharged 17.5 million cubic meters of water in advance to leave room for more rainwater.
In Guangdong, around 70,000 fishing farm workers on the sea, fishermen and residents in low-lying areas have been evacuated to safe areas.