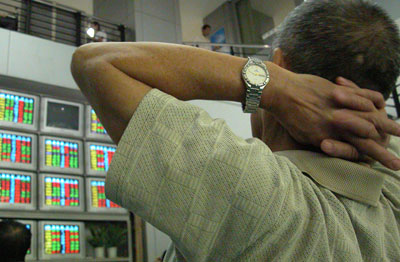 An investor monitors stock price movements at a brokerage in Guangzhou, South China's Guangdong Province August 17, 2007. [newsphoto]
China's main stock index jumped more than five percent on Monday, as global markets rallied after the US Federal Reserve cut discount rate on loans to banks on Friday.
The benchmark Shanghai Composite Index soared 248.28 points, or 5.33 percent, to close at 4,904.85 points, recovering the losses in the last few sessions and edging closer to the 5,000 mark. The Shenzhen Composite Index surged 4.53 percent to 1,356.01.
Other Asian markets also posted solid gains. In Japan, the Nikkei share average rose 458.80 points or 3.0 percent to 15,732.48, its biggest percentage rise since July 2006. Hong Kong finished 5.93 percent higher, while Seoul gained 5.69 percent at the close.
The rally came after the Feds slashed the discount rate on loans to banks by 50 basis points to 5.75 percent on Friday to try to calm the recent storm on world financial markets sparked by the US sub-prime mortgage problems, prompting an immediate surge in US and European stocks.
Back in the Shanghai and Shenzhen stock exchanges, large-caps led the rebound, with the Industrial and Commercial Bank of China being the biggest contributor. Shares in the country's biggest lender jumped 9.75 percent to close at 7.09 yuan per share.
Bank of China gained 5.90 percent to 6.10 yuan, while China Merchants Bank rose 8.70 percent to 35.97 yuan.
In the insurance sector, Ping An Insurance of China went up 3.77 percent to 92.53 yuan, followed by a 3.23 percent increase in China Life to 48.87 yuan.
Sinopec also drove up the market, increasing 5.30 percent to 15.29 yuan, and Angang Steel and Iron Co. jumped its daily limit of 10 percent to 28.71 yuan.
Property shares were also strong, with China Vanke rising 7.20 percent to 33.07 yuan.
Some analysts expect the market to continue to climb as listed firms post strong earnings.
Up until Saturday, 792 companies listed on the two bourses have released their interim report, recording an average 75.71 percent year-on-year growth in profits, according to China Securities Journal. The rest will release their reports before the end of this month.
However, as the Shanghai index moves closer towards the 5,000 mark, it is expected to run up against a lot of psychological resistance and fluctuations may grow unsettled, analysts said.
So far this year, the Shanghai Composite Index has gained 83.25 percent on top of a 130 percent rally in 2006.