PARIS - China's stock markets run the risk of "a marked correction" with the potential of sending ripple effects into the banking sector, the Organisation of Economic Cooperation and Development said Thursday.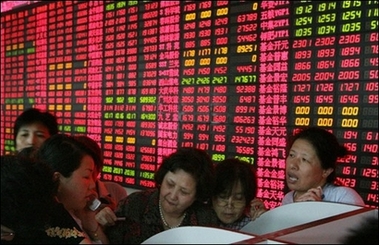 Chinese investors view stock data in front of a stock prices board in Shanghai, 23 May 2007. [AFP]
Special coverage:
Stock Market

Related readings:
Stock-buying fever grips China
China stocks break key barrier
China raises bank reserve ratio to 11%
China stocks rebound, recovering lost ground
Stocks fall as GDP growth, inflation accelerates
Stock index futures unlikely before July - report
More investors join 'wild' bull run
China stocks hit fresh high
Blue chips push stocks to new high
China stocks at new high after seesaw session
China stocks hit new high on investment fever
China stocks hit record high
The booming Chinese stock exchanges could see their lengthy rally come to an abrupt halt by events such as a slowdown in exports and profits, the OECD warned in its twice-yearly "Economic Outlook" report.

"High share prices pose a risk to stability," the OECD said. "The existing level of share prices appears to carry the risk of a marked correction should it appear that the current growth of profits cannot be maintained."

Such a situation might arise in the context of slower export growth stemming from a downturn in world trade, the OECD argued, adding that in that event, it could be hard to limit the consequences to the stock markets only.

"There are some reports that individuals are funding their growing purchases of shares through bank borrowing," it said.

"While the portion of the stock market wealth held by individuals is small, such loans could turn sour if there were a fall in prices, thereby adversely impacting bank balance sheets."

Chinese stocks have jumped about 55 percent since the beginning of this year and more than tripled since the start of 2006 as warnings at home and abroad have accumulated that the situation cannot go on for much longer.

On Wednesday, former Federal Reserve chairman Alan Greenspan in reported remarks warned of a possible "dramatic contraction" in Chinese share prices, whose recent gains he said were "unsustainable."

Chinese regulators cautioned again Thursday about the risks to investors, calling on brokerages to step up advice programmes to ensure they spend their money prudently.

Elsewhere in its report, the OECD said China, the world's fourth-largest economy, will see more investment-fuelled growth in 2007, with the economy expanding 10.4 percent this year and next, after 10.7 percent in 2006.

"Easing of world demand and the slight appreciation of the currency is likely to result in some easing of export growth," it said, adding that domestic demand will accelerate progressively both this year and next.

The OECD said efforts by the government to slow down investment growth may gradually have less of an impact.

"The impact of administrative constraints on investment is likely to wear off and as profitability remains extremely strong there may be some rebound in capital formation," it said.