China's major stock indexes rebounded Friday, recovering part of Thursday's five-per cent loss blamed on the fears of an interest rate hike.
The benchmark Shanghai Composite Index rose 3.92 per cent to close at 3,584.20 points, while the Shenzhen Composite Index went up 4.57 per cent to 1,003.87. The Shanghai and Shenzhen 300 index of major companies gained 4.41 per cent to 3,289.19.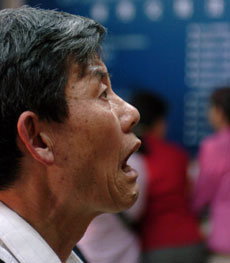 An investor monitors the movement of stock indexes at a brokerage firm in Chongqing April 19, 20078.[Xinhua]

Financial shares led the comeback, reversing a downward trend in the previous two sessions.

China Life gained 4.03 per cent to end at 36.89 yuan per share compared to a 3.06 per cent drop on Thursday. Its rival Ping An Insurance surged 6.46 per cent to 55.34 yuan, following a 2.25 per cent fall the previous day.

China Petroleum and Chemical Corporation (Sinopec) rose 2.78 per cent to 11.08 yuan, and Air China, the country's biggest international airline, soared 7.86 per cent to 8.92 yuan.

Only 10 out of some 1,500 stocks in the Shanghai and Shenzhen bourses reported losses.
Special coverage:
Stock Market

Related readings:
Stock index futures unlikely before July - report
More investors join 'wild' bull run
China stocks hit fresh high
Blue chips push stocks to new high
China stocks at new high after seesaw session
China stocks hit new high on investment fever
China stocks hit record high
The surge came after a fall of nearly five per cent on Thursday, the biggest drop since February 27 when the indexes lost nearly nine per cent, triggering a global sell-off.
Thursday's plummet was attributed to the worries that the central bank will raise interest rates to cool down the economy and curb inflation.
China's gross domestic product grew 11.1 per cent in the first quarter of this year, the National Bureau of Statistics said Thursday.

Meanwhile, the consumer price index, a barometer of inflation, climbed 3.3 per cent in March, the highest in more than two years and above the central bank's target of three per cent, according to the bureau.