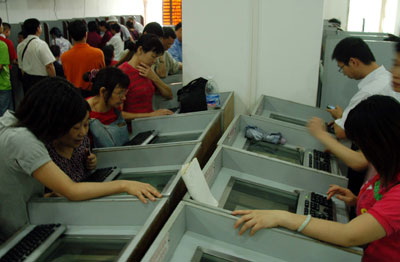 Investors monitor the movement of stock prices at a brokerage firm in Guangzhou, South China's Guangdong Province May 9, 2007. [newsphoto]
The Huixin Dongjie office of Xiangcai Securities in Beijing was packed Wednesday. Investors of various ages stared at the exchange board as the numbers flickered constantly.
While the place was busy, with people making transactions, there weren't many long lines. It was a different picture of the red-hot stock market some media had reported earlier.
A woman surnamed Wang sold all her stocks days ago and is now waiting for a correction in China's runaway stock market.
"The market has reached its peak and is certain to fall," said the new investor in her thirties. She had beginner's luck, making a 10,000-yuan profit out of 30,000 yuan in two months. "I will start buying stocks again after a major fall."
Another investor who calls himself Old Jiang, 60, opened a share-trading account in April and he put 20,000 yuan, a small part of his savings, into the market.
Special coverage:
Stock Market

Related readings:
Stock-buying fever grips China
China stocks break key barrier
China raises bank reserve ratio to 11%
China stocks rebound, recovering lost ground
Stocks fall as GDP growth, inflation accelerates
Stock index futures unlikely before July - report
More investors join 'wild' bull run
China stocks hit fresh high
Blue chips push stocks to new high
China stocks at new high after seesaw session
China stocks hit new high on investment fever
China stocks hit record high
"It's just for fun and it helps me kill the time," said the retiree who said he did not care much about the gains.
"If my money increases, it's good, as I will have more money to buy meat," the former engineer told chinadaily.com.cn. "But if I lose the money it's also ok, as it will not affect my everyday life greatly. "
What Wang and Yang are doing presents a different picture from that painted by some domestic media. Reports often recounted irrational Chinese investors eagerly jumping into the stock market, expecting quick money and unaware of the risks.
There are also frequent stories about a senior betting all of his or her hard-earned savings on the stocks, or about a man putting all his possessions up as collateral to get a loan for stocks.
But in fact, Wang is among millions of investors who are not so optimistic about the future development in the market.
Statistics from the Shenzhen Stock Exchange showed, by the end of March, more than 3.4 million investors in the bourse have sold all the stocks in their portfolios, or made no transactions after opening new accounts, according to earlier reports.
Grandpa Yu, 66, was one of them. "The market will definitely fall," he said confidently. "When the flood of new money slows down or stops, the market will lack support. It is the rule of stock market."
Most of the investors around him chose to hold cash when the Shanghai Composite Index surpassed 3,500 points in early April. The index broke through 4,100 Tuesday, extending this year's gains to more than 53 percent on top of a 130 rally in 2006.
A 50-year-old woman surnamed Cao hasn't pulled out of the market yet. She has raked in 100,000 yuan from her investment since the start of last year, and continued to buy stocks, mostly those below 20 yuan each. But she is trading cautiously even while believing the bull market will continue.
"I have pulled out my initial investment and now just use the gains for further transactions," she told chinadaily.com.cn at the packed Huixin Dongjie office of Xiangcai Securities.
A veteran investor surnamed Liu agreed with Cao on the long-term trend, but he was worried about potential cooling measures by the government, especially an increase in the stamp tax.
To his relief, the Ministry of Finance and State Administration of Taxation said Tuesday that they have not heard of any plan in this regard.
Starting his stock investment more than 10 years ago, Liu said as far as he knows most of the novices are cautious. "They will usually put in just 20,000-30,000 yuan at first," he said. "But if they see the gains are not bad, they will buy more stocks."
Liu disagrees with some reports that say many new entrants to the market know nothing about stocks and just follow rumors. "As far as I know, they will read some books and newspapers on investment, or watch related TV programs to get some idea before making transactions," said Liu.
Novice investor Fang echoed Liu's point. Fang did intensive rsearch before entering the market in April and continues to do so every day.
Fang mirrors a change brought about by the stock fever: the Chinese are paying more attention to the country's economic development and governmental policies, according to a report by China News Service.
"I only read international news before," said a post-graduate student surnamed Xin at the Chinese Academy of Science. "But after I started to buy stocks, I got more and more interested in economic news, especially news on interest rate hikes or renminbi appreciation."
Xin has learned to study the fundamentals of listed firms and make an educated decision before making actual purchases. "In general, my investment has become more steady and conservative," said Xin.
There are signs the market is cooling as evidenced by a slowdown in the opening of new A-share accounts.
From May 15-22, an average of 266,000 accounts were opened each day compared with 342,000 in the previous week, according to the China Securities Depository and Clearing Corporation. The fall came after a major market correction on May 15 when the Shanghai Composite Index fell 3.64 percent.
"We open some 30 accounts each day after the pullback, down from 40-50 after the Labor Day holiday," a clerk at the Huixin Dongjie office of Xiangcai Securities told chinadaily.com.cn.
In related development, former US Federal Reserve Chairman Alan Greenspan warned Wednesday China's stock market was unsustainable and he expected a dramatic contraction at some point.
Greenspan's remark followed warnings from Li Ka-shing, Asia's richest man. China's stock valuations "must be a bubble" and prices are likely to decline, said Li last week.