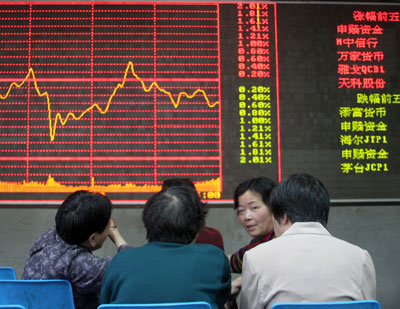 Investors talk at a securities brokerage firm in Shanghai April 27, 2007. [newsphoto]
China's main stock index surged 2.83 percent and set a fresh all-time high on Tuesday, buoyed by strong buying in sectors including real estate and retailing, as trade resumed after a week-long public holiday.
Meanwhile, China's yuan hit a post-revaluation high against the dollar on Tuesday after the central bank set its mid-point at a record level of 7.6951 to the dollar, breaching the psychologically important level of 7.7000 for the first time.
The Shanghai Composite Index ended the session at 3,950.01 points, after hitting an intra-day record high of 3,964.71. Turnover was extremely heavy at 205.19 billion yuan.
Special coverage:
Stock Market

Related readings:
China raises bank reserve ratio to 11%
China stocks rebound, recovering lost ground
Stocks fall as GDP growth, inflation accelerates
Stock index futures unlikely before July - report
More investors join 'wild' bull run
China stocks hit fresh high
Blue chips push stocks to new high
China stocks at new high after seesaw session
China stocks hit new high on investment fever
China stocks hit record high
The index is up 48 percent since the start of this year, and many investors have been targetting the 4,000-point level -- a target that could well be hit this week, regardless of concern that the market may be setting itself up for a substantial pull-back in the medium term, traders said.
"Sentiment among investors is still very strong," said Shanghai Securities analyst Zheng Weigang, adding that rises in Hong Kong and global equities over the Chinese holiday were encouraging buyers.
Chinese central bank chief Zhou Xiaochuan, speaking in Switzerland on Sunday, acknowledged that a bubble in the stock market was a concern and said the central bank was monitoring asset prices along with inflation.
Many in the money market expect an interest rate hike as soon as this month, possibly in response to April inflation data in mid-May. That could be a trigger for an equities pull-back.
But Zheng said investors were too bullish to pay attention to Zhou's comments for now. "In the medium term this may affect the market as the central bank may take policy steps, but in the short term it's not having an effect," he said.
Heavyweight refiner Sinopec Corp jumped 5.30 percent to 11.92 yuan, partly on the back of yuan appreciation, which may cut the cost of imported oil.
A leap of shares in Hong Kong-listed PetroChina during the holiday, after the company made a massive oil find in China's Bohai Bay, may also have sparked interest in Sinopec.
Food makers were also strong as part of the focus on consumer-related stocks, with Shanghai First Provisions climbing its 10 percent daily limit to 30.00 yuan.
Leading property stock Vanke soared 10 percent to 19.89 yuan. Appreciation of the yuan beyond 7.70 to the U.S. dollar for the first time on Tuesday helped the property sector in general, as a strong yuan boosts the value of its assets.
Aluminum Corp. of China (Chalco) , which soared 180 percent when it listed in Shanghai just before the holiday, dips 0.54 percent to 18.41 yuan. Traders said Chalco's ability to hold onto its listing gains was positive, as was a 7 percent rise in its Hong Kong-listed H shares in the past two days.
The National Development and Reform Commission announced it had adjusted maximum retail prices for 260 drugs, cutting 70 percent of them by an average of 19 percent. But this had little impact on the pharmaceutical sector, which rose 4.06 percent.
Yuan hits a record high against dollar
China's yuan hit a post-revaluation high against the dollar on Tuesday after the central bank set its mid-point at a record level, but there was no clear indication that yuan appreciation would speed up in the near term, dealers said.
Before trading began on Tuesday morning, the first day after a week-long labour day market recess, the People's Bank of China set the yuan's daily mid-point at 7.6951 to the dollar, breaching the psychologically important level of 7.7000 for the first time.
The yuan was at 7.6950 at 0300 GMT, after reaching 7.6942, its highest since it was revalued and freed from a dollar peg in July 2005. It previously peaked on April 30, when it touched an intraday high of 7.7025.
Traders attributed the strong mid-point to general weakness in the dollar on global markets.
Market expectations of a rate hike by Beijing, most likely in the second half, also helped to set the yuan on an uptrend, they added.
The central bank has been focusing on tightening monetary policy to absorb excess money market liquidity.
Last month, it ordered banks for the second time in a month to hold more of their deposits in reserve, in its latest move to curb credit growth and prevent overheating of the economy.
Many economists and analysts are expecting further tightening measures to follow later in the year, including a rate hike in the next couple of months.
A faster rise in the yuan before a U.S. congressional hearing on Wednesday on foreign currency manipulation may ease outside pressure on China over its currency, some traders said, although Beijing has insisted on pursuing an independent foreign exchange policy.
"I have to say that Wednesday's hearing may have played a role in the strong yuan today," said a Shenzhen-based trader with a major Chinese bank.
He added that the yuan could give up its gains later in the week, as sudden pickups in the rate of appreciation have tended to be followed by a period of consolidation.
The yuan has appreciated a further 5.4 percent since July 2005. Traders expected it to continue in a steady uptrend and there were no indications that the central bank would accelerate the pace of yuan appreciation over the longer term.
For the full year, many local dealers expect the currency to rise 4 percent against the dollar.