A top Chinese securities regulator warned investors about the risks in stock investment on Saturday, news reports said.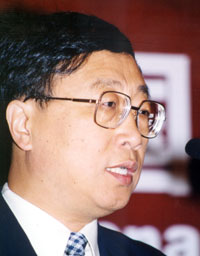 Fan Fuchun, vice chairman of the China Securities Regulatory Commission warns investors about the risks in stock investment on Saturday. [newsphoto/file]

"There are risks in the stock market and you should think carefully before entering," Fan Fuchun, vice chairman of the China Securities Regulatory Commission told investors at a forum on financial reform in Nanjing, East China's Jiangsu Province.

He urged investors not to jump into the equity market blindly or make investment decisions based on rumors. At the same time, people should take precautions to guard against risks, he said.

China's stock market has soared 40 percent so far this year after rallying 130 percent in 2006, drawing a record number of investors into the market.

In March alone, over four million new A-share trading accounts were opened, compared with the 3.08 million for the whole year of 2006, according to statistics.

The figures for new accounts are considered a rough indicator of new retail investors entering the bullish market.

The wave of new money has led the Shanghai and Shenzhen markets to consistently hit record highs, promoting worries about stock overvaluations.

"This is definitely a bubble in the making - for most stocks," Steven Sun, HSBC equities analyst was quoted as saying in the Financial Times last week. "At the height of the last bubble [2000-01], we saw investors opening two million accounts a month, which is half the current rate."
Special coverage:
Stock Market

Related readings:

China stocks rebound, recovering lost ground
Stocks fall as GDP growth, inflation accelerates
Stock index futures unlikely before July - report
More investors join 'wild' bull run
China stocks hit fresh high
Blue chips push stocks to new high
China stocks at new high after seesaw session
China stocks hit new high on investment fever
China stocks hit record high
FT also cited Fraser Howie, who wrote a book about the Chinese stock market."Any money getting into the market now is not smart money and is coming from the kind of people who can least afford to lose it," he explained. "That has to have the government worried about social stability."
Unlike the developed markets, what makes up a major part of China's stock market are retail investors who get caught up in the frenzy and are more vulnerable to risks.
"Almost everyone is talks about stocks," said Xia Bin, head of financial research at the Development Research Centre, a cabinet think-tank, reported Modern Express.
"Some old ladies in their 70s or 80s who know nothing about the stock market wonder how easy it is to earn money when they see their stocks rise. They can't even believe it," Xia noted.
He likened China's current economic environment to that of Japan when its bubbles were developing in the late 1980s.
The researcher went on to advise the central bank to pay close attention to the changes in domestic asset prices, including housing and stock prices.
Under the current speculative atmosphere in the equity market, regulators should use all kinds of financial tools to cool the market, increase the supply of more quality stocks, and speed up the launch of stock index futures, according to Xia.
He then called for strengthened market supervision and probes into the manipulation of stock prices and other illegal activities.
Fan has already followed Xia's suggestions by saying his agency has set up a quick-response mechanism targeting the abnormal movements in stock prices and promises tough action against any unlawful practices.
Regulators are pushing for full disclosure of information from listed companies to improve transparency, Fan said, adding that those who release of false or misleading information would be punished.