Experts, officials highlight report's contributions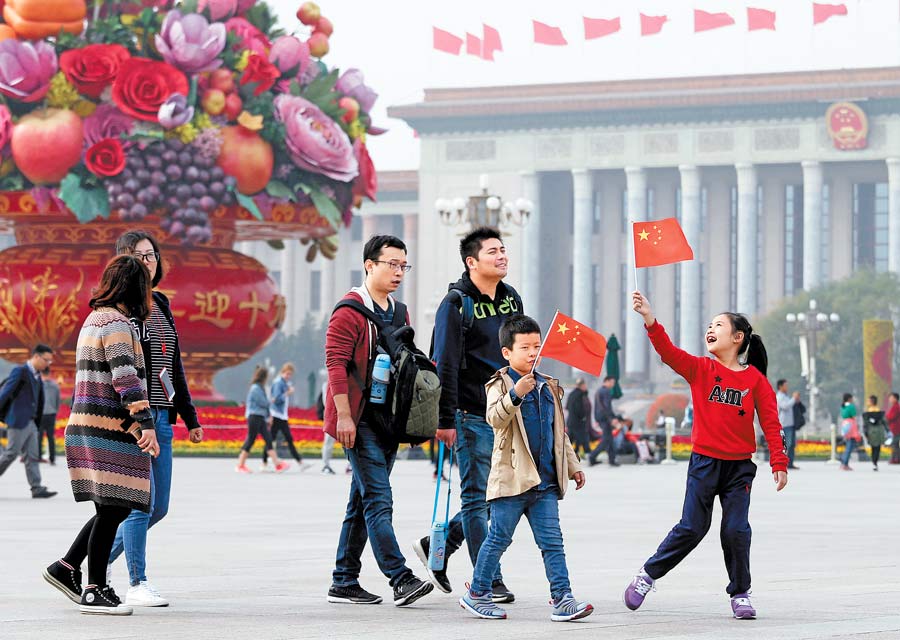 A group of tourists, with their children waving national flags, walks through Tian'anmen Square in Beijing over the weekend. Behind them is the Great Hall of the People, where the 19th National Congress of the Communist Party of China has been meeting since last week to set the course of the country's future. [Photo by Edmond Tang/China Daily]
System: Socialist institutional breakthroughs will be far-reaching
By Li Yang
The 19th National Congress of the Communist Party of China has caught worldwide attention, but not only because of China's economic influence.
A spotlight also is focused on the Party's insatiable yearning for institutional innovation, as shown in 18th Central Committee of the CPC's report delivered by General Secretary Xi Jinping, as well as the global significance that the innovation is set to garner.
Any keen observer of China would not deny that the 68-page work report Xi delivered to the Congress on Wednesday was a concise, down-to-earth and systematic explanation of what the Party has done and will do.
In the report, Xi has demonstrated strong ability in theoretical crystallization in a confident manner. He defines the new era of socialism with Chinese characteristics and redefines the main contradiction of the new era, seamlessly combining his thought with both the reality of China and the heritage of his predecessors.
Xi Jinping Thought on Socialism with Chinese Characteristics for a New Era represents a new development in Marxism in China, and the latest contribution to the world socialist cause and theoretical progress.
The vitality of his thought rests with the institutional innovations China has made under the leadership of the Party with Xi as the core since 2012 - more than 1,500 reform measures have been launched in a systematic, holistic and coordinated way - as well as the concrete benefits these innovations have delivered in China and elsewhere in the world.
The Belt and Road Initiative, proposed by Xi in 2013, is a case in point.
Erik Berglof, director of the London School of Economics' Institute of Global Affairs, said China is playing an important role on the world stage by championing big ideas, including the initiative and the Asian Infrastructure Investment Bank. "What China does is important for the world, and what China does, even domestically, has implications for the world."
With nearly one-fifth of the global population, China's continuous institutional innovation in economic growth, good governance, poverty alleviation, environmental protection, security and public services is of global significance, and generates increasingly more spillover effects around the world, as the Western-dominated international order has shown, time and again, its inability to resolve some pressing problems, especially in developing and least-developed regions.
The new Thought will guide the profound reform and all-around development of the largest developing country in a stable and increasingly predictable manner. The mounting expectations on, concrete benefits linked with and bright prospects related to this Thought should consolidate other developing countries' confidence in their own independent development.
These countries should not directly copy any existing system, but they should explore their own future based on their practical national conditions.