Experts, officials highlight report's contributions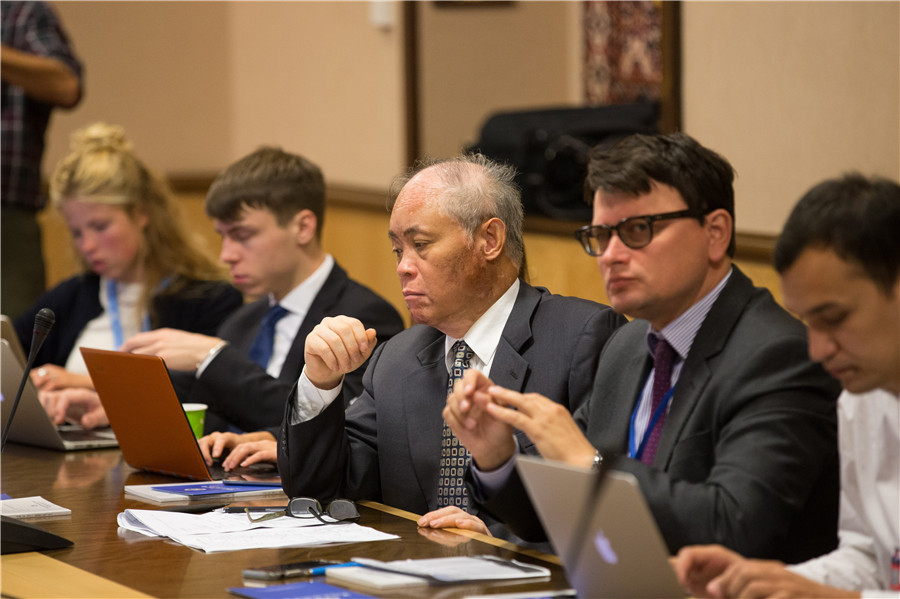 A side-event of 36th UN Human Rights Council Session, titled "Building a community of shared future for mankind and the realization of the right to development", is held in Geneva, Swissland, Sept 13, 2017. [Photo/Xinhua]
Diplomacy: Party's goal of mankind with a 'shared future' is blueprint for peace
By Zhang Yunbi
The commitment that the Communist Party of China made during its 19th National Congress to build "a community with a shared future for mankind" will play a far-reaching role in boosting harmony and effective cooperation in the complicated global landscape, prominent officials and experts said.
They said China has tangibly translated this vision into actions during the past five years, with the country promoting peace and diplomacy to solve many of the global thorny issues like the Iran nuclear issue and climate change.
"We call on the people of all countries to work together to build a community with a shared future for mankind, to build an open, inclusive, clean and beautiful world that enjoys lasting peace, universal security and common prosperity," Xi Jinping, general secretary of the CPC Central Committee, said in his report to the CPC National Congress on Wednesday.
"No country can alone address the many challenges facing mankind," Xi said. "China will never seek hegemony or engage in expansion."
Xi first proposed the idea of "community with a shared future" in 2013. He elaborated on the idea in a speech in Geneva this year.
This vision has been incorporated into resolutions and other documents at the United Nations in recent years.
Observers said that at the core of this vision is promoting win-win relations, equality and consultation, which will help shape a more harmonious world order, peacefully settle hot spot issues and ensure global stability.
Hua Chunying, a delegate at the Party Congress and Foreign Ministry spokeswoman, said building the community is a key point of China's general goal for its diplomacy in the new era.
"It echoes the hopes of most countries, serves the world's very interests and wins increasing recognition and welcome from abroad," Hua noted.
Su Ge, president of China Institute of International Studies, said Xi's report was made at a time in which the world needs China's voice and wisdom to tackle demanding tasks such as the deficits in peace, development and global governance.
China has hosted a range of major multilateral meetings, and it has pushed forward economic globalization and common development, Su noted.
Kevin Rudd, former Australian prime minister, said China has been actively participating in the global governance through its climate change policies and the Belt and Road Initiative.
"Its diplomatic efforts have contributed to the reform of global governance structure and the establishment of a community of shared future for mankind," Xinhua quoted Rudd as saying.
B.R. Deepak, a professor at Jawaharlal Nehru University in New Delhi, said China's vision of building such a community "emphasizes the ongoing trend of multipolarism, interdependence, tolerance and mutually beneficial cooperation".