Chinese actress Angelababy gives birth to baby boy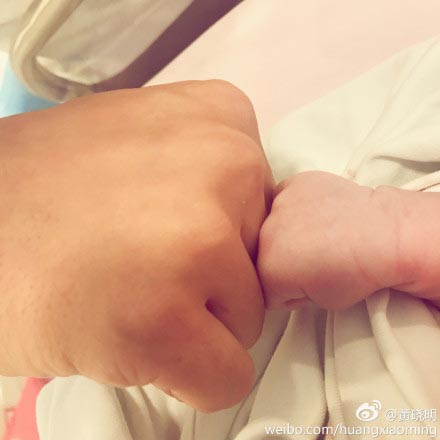 Chinese actor Huang Xiaoming posts a photo of his fist together with the fist of his newborn baby boy on Tuesday, January 17, 2017. [Photo/Weibo account of Huang Xiaoming]
Chinese actress Angelababy has become a mother.
The 27-year-old actress gave birth to a baby boy on Tuesday morning (January 17, 2017) in Hong Kong.
Her husband, 39-year-old actor Huang Xiaoming, was right by her side as the couple welcomed their new bundle of joy.
The couple has revealed that their baby boy is named Xiaohaimian, literally translating to "Little Sponge".
No other details of the birth have been disclosed so far.
The baby is the first child for the pair.
Angelababy, whose real name is Yang Ying, began her career as a model before moving into the film scene.
Huang Xiaoming got his break in television shows before heading for the big screen.
The star couple tied the knot in Shanghai in October of 2015.
Related:
Chinese star Andy Lau fractures spine from horse riding accident
Adele says she battled depression, before and after son's birth