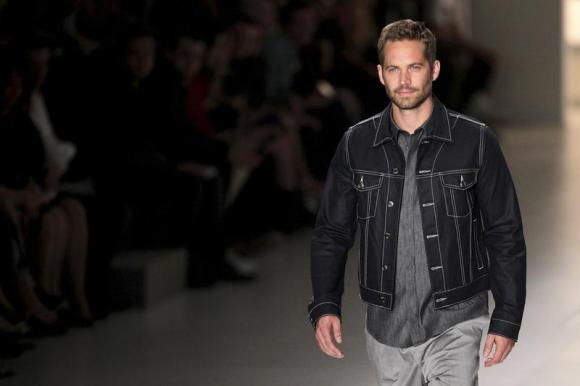 US actor Paul Walker presents a creation from Colcci's 2013/2014 summer collection during Sao Paulo Fashion Week March 21, 2013. [Photo/Agencies]
An 18-year-old accused of s
tea
ling a rooftop panel from the wrecked Porsche in the crash that killed "Fast and Furious" actor Paul Walker was in custody on Friday, Los Angeles sheriff's officials said.
Jameson Witty was arrested at his home in Los Angeles on Thursday, and a second suspect was arranging to turn himself in, authorities said.
On the day of the November 30 crash, someone using the Instagram service handle "jamesonwitty" posted photos of a portion of the roof of a red Porsche and wrote, "Piece of Paul walkers (sic) car, took it off a tow truck at a stop light."
It was not immediately clear whether the photos were genuine, but sheriff's deputies arrested Witty after searching his home.
Walker was a passenger in a fiery one-car crash in Santa Clarita, California, about 30 miles northwest of Los Angeles, that also killed 38-year-old driver Roger Rodas over the Thanksgiving holiday weekend.
The 40-year-old actor, best known for his roles in the "Fast and Furious" action films, died from multiple injuries, the Los Angeles County coroner said on Wednesday.
The coroner said Walker's death resulted from "traumatic and thermal injuries." While the coroner did not elaborate, thermal injuries are heat-related and are commonly burns.
For more coverage on Paul Walker, click here