Los Angeles judge orders probe after Paris Jackson suicide attempt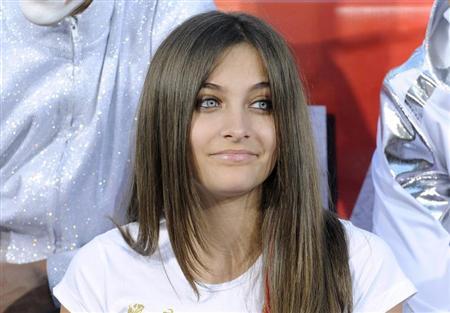 Michael Jackson's daughter Paris attends a ceremony where the singer's shoes and gloves are used to make hand and foot imprints in cement in the courtyard of Hollywood's Grauman's Chinese Theatre in Los Angeles on January 26, 2012.[Photo/Agencies]
A Los Angeles Superior Court judge has ordered a probate court investigator to make recommendations about the "health, education and welfare" of Paris Jackson, teenage daughter of late singer Michael Jackson, after an apparent suicide attempt this week, according to court documents.
Judge Mitchell Beckloff ordered the investigator to "address the status of the minor child, Paris Michael Katherine Jackson, and recent media reports concerning her welfare," court documents filed on Thursday said.
The teenager was rushed to a Los Angeles-area hospital on Wednesday after attempting suicide, her biological mother Deborah Rowe told the TV program "Entertainment Tonight."
Paris' grandmother, Katherine Jackson, said a statement distributed on Wednesday by her attorney, Perry Sanders, noted that "Paris is physically fine and is getting appropriate medical attention."
"Being a sensitive 15-year-old is difficult no matter who you are," Katherine Jackson said in her statement. "It is especially difficult when you lose the person closest to you."
Celebrity news website TMZ first reported the apparent suicide attempt, and said Paris was under psychiatric evaluation.
Pop singer Jackson died in 2009 at age 50 from a lethal dose of surgical anesthetic propofol in Los Angeles while preparing for his "This Is It" series of concerts in London.
Paris and her two brothers Prince Michael and Prince Michael II, also known as Blanket, live under the joint custody of their 83-year-old grandmother Katherine and their cousin T.J. Jackson, son of Jackson's older brother Tito.
Rowe, who was married to Jackson from 1996 to 1999 and had two children with him, turned over custody of the children to Jackson as part of their divorce, but she had recently rekindled her relationship with Paris.
Related:
Michael Jackson's teen daughter attempts suicide -mother
Michael Jackson lawyer calls new sex abuse claim 'outrageous'