Meet the freshest Madonna ever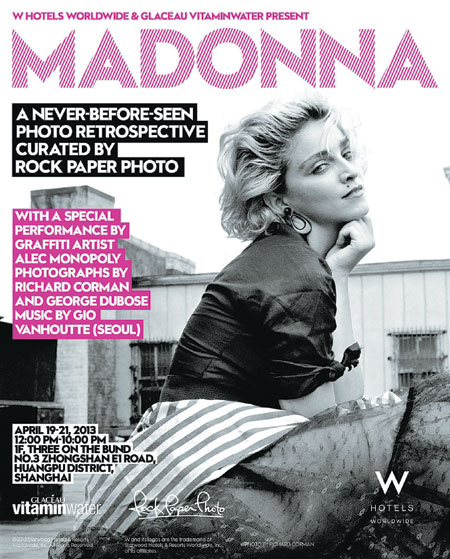 Richard Corman took the photo when Madonna auditioned for a movie. [Photo/China Daily]
Twenty-five never-before-seen photos of pop queen Madonna are on show in Shanghai from April 19 to 21 at one of the city's landmarks, Three on the Bund.
The exhibition, A Transformational Exhibition, features a collection of Material Girl's iconic street style in the 1980s in New York, shot by world-renowned photographers Richard Corman and George DuBose.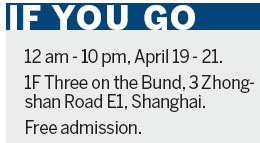 Shanghai marks the fifth stop -and the only one in the Chinese mainland - of this global tour, which kicked off last September, at W Paris Hotel Opera.
"Madonna is a true 'original', for sure a pop icon," says Arnaud Champenois, senior director of W Hotel's Asia Pacific brand management department, the co-organizer of the exhibition.
"She is still inspiring many generations, always mixing what's new/next in terms of music and fashion," Champenois says.
That is strikingly similar to what Corman, or more precisely, Corman's mother, says about the one-name star who "transformed the entertainment industry".
"My mother was casting The Last Temptation of Christ for Martin Scorsese and called me to say they had just tested a girl for the part of the Virgin Mary. She said, 'You must meet this girl - she's an original,'" as the photographer tells the story of how he captures Madonna before her leap to fame, according to the online photography gallery Rock Paper Photo. Founded by Madonna's longtime manager Guy Oseary, it provides the photos exhibited.
A picture Corman took of Madonna on a Manhattan rooftop in the 1980s, when she was auditioning for a movie based on a Cinderella fairy tale, is the poster for the exhibition. The movie is never made.
The multimedia exhibition combines music, photography and pop culture. DJs from W Hotels worldwide will be on site playing a mix of 1980s and '90s music.
New York's celebrated street artist Alec Monopoly will transform two of the exclusive pictures with his signature graffiti art in a live performance. The "transformed" pictures will later be auctioned in New York for charity.
Champenpis, with his expertise in luxury collection, says his personal favorite is a picture that shows Madonna sitting on a bench in Little Italy, New York, with older people, which he thinks symbolizes the cross-generational success of her career.