Psy unveils follow-up to Gangnam Style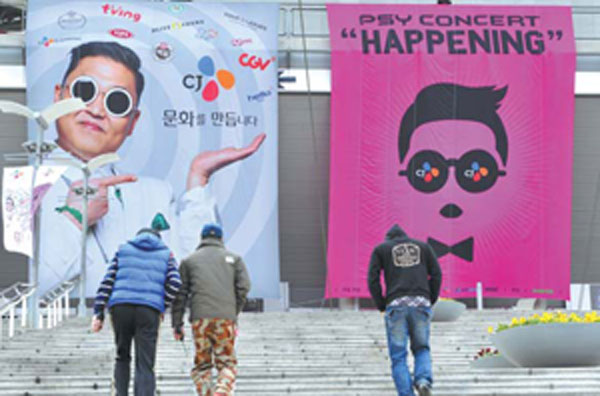 Posters for a concert by South Korean singer Psy in Seoul. Known for his global hit Gangnam Style, Psy released his latest song Gentleman on Friday. Provided to China Daily
Gangnam Style star Psy on Friday unveiled the follow-up to his global hit with another catchy dance tune infused with his signature self-mocking humor - but left fans still waiting for the all-important video.
Gentleman hit online music stores in a midnight rolling release across 119 nations.
With fans and critics waiting to see whether the Gangnam Style singer and his invisible horse-riding dance are more than just a one-hit wonder, the new electro-dance song offers an equally simple and catchy melody.
The song - a satire of a self-proclaimed "gentleman" trying to woo women at a party - contains more English lyrics than Gangnam Style in a clear nod to the singer's newfound global audience.
"Let me tell you about myself. I'm such a charmer with guts, vigor and humor," Psy sings in Korean before launching into the song's English catch-line: "I'm a mother-father gentleman. Gonna make you sweat. Gonna make you wet. You know who I am? Wet Psy!"
The song went straight to the top of the download charts on half-a-dozen South Korean online music sites, but the critical reaction on social network sites was mixed.
A snap poll of 2,000 users on Daum.net, a leading South Korean news portal, saw 38.9 percent rate the song as either good or very good, but 48.3 percent opted for mediocre or dull.
"I can't see this getting quite as big as Gangnam Style ... but it is still irritatingly catchy," wrote micro-blogger @joe_thomas25.
But Ahn Jae-Hee, a CD shop owner in Seoul, predicted that Gentleman would be "just as big a hit" as its predecessor.
Many fans voiced frustration at having to wait for the accompanying video.
Related:
'Gangnam Style' takes top song prize at 'K-pop Grammys'
'Gangnam Style' makes YouTube history with 1 bln views