Taylor Swift slams Tina Fey on love life joke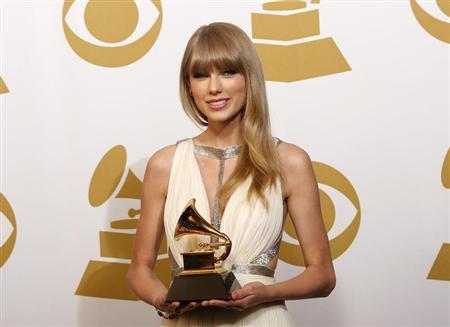 Taylor Swift holds the award for Best Song Written For Visual Media for "Safe & Sound" backstage at the 55th annual Grammy Awards in Los Angeles, California February 10, 2013. [Photo/Agencies]
Country pop singer Taylor Swift hit back at comedians Tina Fey and Amy Poehler for mocking her love life at Hollywood's Golden Globe Awards this year, calling the jab sexist in an interview with magazine Vanity Fair on Tuesday.
Related: Comedian Tina Fey won't host the Oscars
During the awards broadcast, hosts Fey and Poehler threw a barb at the singer, telling her to "stay away" from actor Michael J. Fox's 23-year-old son.
The Grammy-winning singer is well known for documenting her personal relationships in her songs, often leaving little clues in the lyrics that hint at the subject.
She has been linked to high profile celebrities such as John Mayer, Jake Gyllenhaal, Taylor Lautner, Joe Jonas and more recently, Conor Kennedy and One Direction's Harry Styles.
In the Vanity Fair interview, Swift, 23, responded to the Golden Globes incident by citing a saying told to her by talk show host Katie Couric that "there's a special place in hell for women who don't help other women".
"For a female to write about her feelings, and then be portrayed as some clingy, insane, desperate girlfriend in need of making you marry her and have kids with her, I think that's taking something that potentially should be celebrated - a woman writing about her feelings in a confessional way - that's taking it and turning it and twisting it into something that is frankly a little sexist," Swift said.