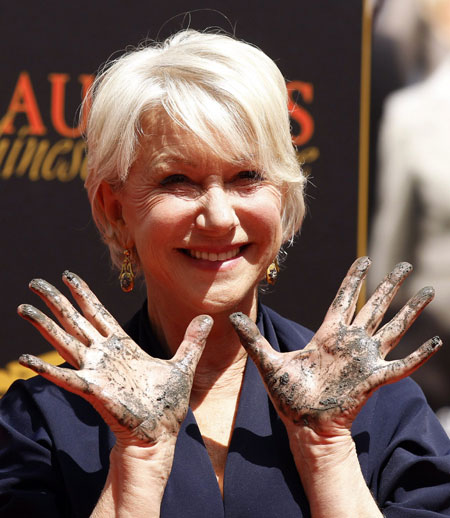 Actress Helen Mirren poses as she makes hand and footprints outside Grauman's Chinese Theatre in Hollywood, Los Angeles, California March 28, 2011. [Xinhua/Agencies]
Highly decorated British actress Helen Mirren was honored with the 2,488th star on the renowned Hollywood Walk of Fame on Thurday.
Related: The formidable force always behind Hitchcock
It is an honor which caps a fruitful career that has seen her acting in a number of royal and commoner roles.
Helen, 67, received the first star of 2013 at a ceremony held in front of the Pig N' Whistle pub on Hollywood Boulevard. Joining her were HBO biopic "Phil Spector" screenwriter David Mamet and "National Treasure: Book of Secrets" director Jon Turteltaub. Both films star Mirren.
The event coincided with Mirren's promotional efforts on behalf of "Phil Spector". She played attorney Linda Kenney Baden who defended the music producer in his first murder trial. The made-for-television film is scheduled to air this spring.
Born on July 26, 1945 in the London suburb of Chiswick, Mirren launched her acting career on the London stage which featured portrayal of Cleopatra in a 1965 National Youth Theatre production of "Antony and Cleopatra".
The actress won a best actress Academy Award in 2007 for her portrayal of Queen Elizabeth II in "The Queen". On the Oscar trail, Mirren also landed several nominations beginning with her acting in Queen Charlotte, the wife of King Geroge III in the 1994 film "The Madness of King George," followed by more commoner roles including a housekeeper in the 2001 mystery comedy-drama "Gosford Park" and the wife of Russian writer Leo Tolstoy in the 2009 biopic "The Last Station".
Mirren was most recently nominated in the Best Actress category for the Golden Globes and the Screen Actors Guild for her role in "Hitchcock," a love story between the influential filmmaker (played by Anthony Hopkins) and his wife Alma Reville (played by Helen Mirren).