Buy now, pay later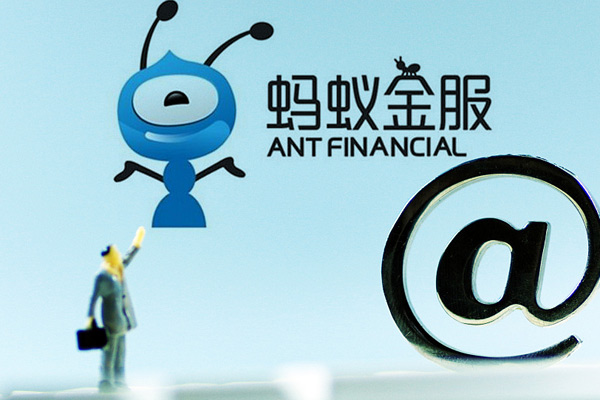 A logo of Ant Financial. [Photo/VCG]
The cost of the new iPhone X may have caused furor around the world, but Zhao Qijun is not baulking at the $999 price tag.
"I hate to hesitate when I see something desirable. I need to have it now," said the 25-year-old.
"I regret not buying the iPhone 7 Plus. I really like how its camera is capable of making photos look much more professional. I cannot afford to miss the iPhone X now," she added.
Zhao can hardly be considered in the same league as Wang Sicong, the son of Chinese billionaire Wang Jianlin, who made the international headlines last year when he bought, not one, but eight iPhone 7s-for his dog.
In fact, the iPhone X costs more than the 5,700-yuan ($870) monthly salary that she earns as an office assistant in Beijing.
But the prohibitive cost of big ticket items such as the new iPhone X has not been a problem for people such as Zhao because consumer credit services like Ant Check Later allow them to pay for their purchases through monthly installments. She even uses this service to purchase daily necessities.
Ant Check Later is a service by Chinese fintech, or financial technology, giant Ant Financial Services, an affiliate of Alibaba Group Holding Ltd.
Zhao is just one of the many Chinese millennial consumers who are increasingly jumping onto the buy-now-pay-later bandwagon.
According to Ant Financial, one in four between the ages of 18 and 27 in China-these individuals form the backbone of the country's burgeoning consumer-credit landscape-use credit services offered by Ant Check Later.
"People born in the 1990s constitute 47.3 percent of the platform's registered users," said Hu Tao, vice-president at Ant Financial, who is also general manager of its credit-rating system Sesame Credit.
"That translates to 45 million young adults using the money of tomorrow for discretionary purchases," Tao added.
One of the common reasons behind this growing trend is the difficulty that young consumers face in getting a credit card as many do not meet the minimum wage requirements.
But the advancement of technology has now made it easier for mobile credit services to determine the risk profile of consumers who require credit.
Ant Check Later extends consumer credit ranging from 500 yuan to 50,000 yuan based on customer risk assessment that is determined by big data analysis. Credit is also interest-free for up to 41 days.
Another key factor is the central government's approach to use consumption to wean the economy away from a heavy reliance on investments and exports.
To encourage people to spend, regulators in 2014 opened up the online credit market, which today includes a growing range of services, including peer-to-peer, or P2P, lending and virtual credit deals offered by internet firms.
The internet credit scene is poised for further growth. While the sector was valued at 6 billion yuan in 2013, iResearch Consulting Group has projected the figure to swell to a whopping 3.4 trillion yuan in 2019.
With just a few taps on the screens of their mobile phones, Chinese consumers can sign up for an installment service option, which is available on virtual wallets, such as WeChat Pay and Alipay.
For instance, one can use Ant Check Later when shopping on Alibaba's e-commerce platforms Taobao and Tmall, while another credit provider, JD Baitiao, offers installments for up to 24 months if a consumer makes purchases on JD.com Inc.
Such credit services have been a blessing to retailers. For instance, the average basket size, or price per order, of customers using the Baitiao credit service is twice that of those who choose one-time payments, according to the company.
Users can also loan credit which is deposited to their payment accounts with Alipay or WeChat Pay.
Lexin is a fintech firm that offers installment shopping and helps users connect with financial institutions which offer loans.
Founded in 2013 by Xiao Wenjie, a former executive at Tencent Holdings Ltd's payment subsidiary Tenpay, Lexin owns installment shopping platform Fenqile, internet-based wealth management tool Juzi Licai, and Dingsheng Asset, an open platform for financial assets.
At the end of June, Fenqile boasted a membership of 16 million users who have an average age of 23. Xiao said the company's target audience are young adults with a good educational background, have high income potential, and are eager to get their hands on the latest products and services on the market.
When Zhang Chenguang, a graduate of the Nanjing University of Posts and Telecommunications, wanted to start his own food company last year, he took two loans of 15,000 yuan and 13,000 yuan with the assistance of Fenqile.
The first loan was processed through conventional means but the other involved a much shorter approval process because the company relied on technology for the vetting process.
"For the first loan, an inspector carried out due diligence to verify my personal information and the whereabouts of my parents," he said.
"The second loan approval process was much simpler-I only had to answer a number of questions through a mobile app and I got the funds in three minutes," Zhang added.
Interest rates for loans vary based on the duration.
In his case, the rate was 11.7 percent for a six-month repayment period for the first loan, and 9.7 percent for a three-month repayment period for the other.
While these rates are higher than the benchmark bank loan rate of 4.35 percent for up to six months, Zhang said the convenience of such services and the flexibility of the loan amount is worth the extra cost.
In a survey conducted by Ant Financial, most young urban dwellers were found to be comfortable with borrowing money to fund their lifestyles, which include taking enrichment classes, attending gym sessions and even tipping online bloggers.
Oliver Rui, a professor of finance at the China Europe International Business School, felt that the younger generation are more eager to experience "instant gratification" instead of doing long-term financial planning.
"This phenomenon is largely due to the fact that Millennials of today are growing up in an environment of surplus," explained Mei Feng, vice-secretary-general of the Beijing Youth Chamber of Commerce.
"Furthermore, China is shaping up to be the world's second-largest economy. These people have not experienced material shortage and they have no intention to do so," Feng added.
Case in point: Zhao used up the 6,000 yuan quota in her Ant Check Later account after purchasing a handbag which wiped out her monthly income.
Zhao even admitted that she does not have enough money to pay her rent for the next three months. She claimed that her parents would step in and bail her out of the situation.
"They would understand," she said. "I treat bags as my life. I can live without my own house, but I can't discard my life."
Consumers such as Zhao would no doubt be a cause for concern for the authorities, especially in a time when household debt in the country is on the rise.
According to data compiled by the Bank for International Settlements and Thomson Reuters, Chinese household debt in 2017 is expected to soar to 45 percent of the country's gross domestic product, or GDP, up from the 10 percent in 2006.
But China still has a long way to go to catch up to household debt levels in the United States, where it reached more than 80 percent of GDP in the past few years.
Meanwhile, a report published by Deutsch Bank in August disclosed that China's short-term consumer credit is surging at a pace of 35 percent year-on-year, and may hit about 40 percent by the end of December.
Mintel, a global consultancy based in London, has also projected consumer loans in China to breech the 50 trillion yuan mark by 2020.
But though Zhao may be strapped for cash, she has never defaulted on her monthly Ant Check Later installments. According to Ant Financial, 99 percent of their users settle their payments on time.
Lexin's founder and CEO Xiao suggested that people such as Zhao are a minority group.
He pointed out that many young consumers today are not afraid to take on credit assistance because they would have to undergo a process of consumption upgrade due to the significant life events they have to undergo.
Yu Jiayue, from Southwest China's Chongqing municipality, paid for her part-time wedding hosting courses using online installments.
She said the rationale behind her decision is something people from her parents' generation would not understand.
"Borrowing money is regarded by people from the older generation as a 'bad thing' which keeps you awake in the middle of the night," she said. "Today, it's not a matter of survival, but an investment in myself."
Then there are customers who could well afford their purchases but decide to pay via installments.
"If you can get a loan, just get it," said Yin Ping, an IT engineer in Shanghai's Zhangjiang High-Tech Park, who earns 22,000 yuan per month.
"Money is worth less over time because of inflation. So it's always a good deal to borrow as long as you have your finances under control."
Yin added that the benefits offered by online credit companies are also attractive to those who use such services frequently and maintain a good credit record.
For instance, Ant Financials' Sesame Credit system uses algorithms to analyze purchasing habits and credit histories before determining a score that ranges between 350 and 950.
Generally, those with scores higher than 700 are able to enjoy privileges, such as the exemption of deposits when borrowing books and signing up for shared bike accounts, VIP services at select airports and even visa-exemptions to certain countries. Tencent is also testing a similar service.
Fan Feifei in Beijing contributed to this story.