Golden Week trade boosts Alipay transactions in Europe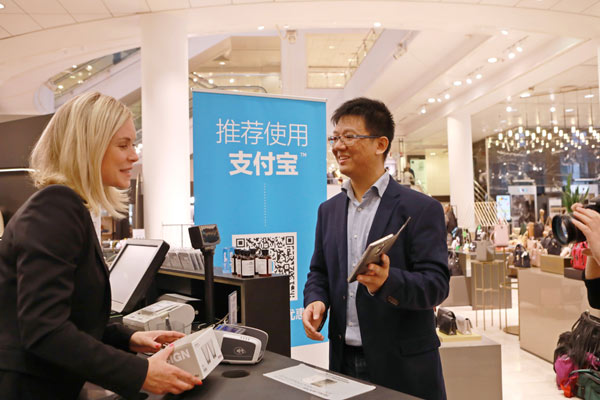 Finland's biggest chain of department stores Stockmann agrees to install China's Alipay as one of its payment methods on Sept 1, 2017. [Photo/Xinhua]
Payments made in European stores using the Chinese mobile payment app Alipay increased six-fold over this month's Golden Week, according to the tech company.
Alipay users conducted eight times as many worldwide in-store transactions outside of the Chinese mainland as they did last year during the week-long national holiday.
The UK accounted for 23 percent of Alipay transaction volumes in Europe, the second-highest in the region. Germany, the strongest performer in Europe, accounted for 40 percent, while France generated 22 percent. Italy, where Alipay launched in April, accounted for a further 5 percent of transactions
The China National Tourism Administration estimated that 6 million people left the Chinese mainland during this year's Golden Week, visiting 155 cities in 88 countries or regions.
Ahead of Golden Week, Alibaba's mobile payment solution announced the expansion of its partnership with Adyen, a Dutch company which provides online or in-store payment platforms.
Following the deal, the use of Alipay was enabled in thousands of more shops across Britain, Europe and the United States.
Both Alipay and competitor WeChat Pay have ramped up their international expansion over the last two years.
Alipay is now available in more than 200,000 shops across 30 countries and regions in Europe, North America, and Asia, while WeChat Pay covers more than 130,000 shops globally and also support transactions in 12 foreign currencies.
Exchange rates in the UK have been favorable for Chinese travelers since the fall in the pound following the vote to leave the European Union.
In August this year, Britain was about 12 percent more affordable for visitors from China than it was during the same month in 2015.
Prior to the Golden Week, shopping tax refund company Global Blue and London Luxury Quarter, which promotes high end retailers, forecast that Chinese shoppers would spend upwards of 50 million pounds on luxury goods in the capital during Golden Week.