Tech R&D spending up 10.6 percent in 2016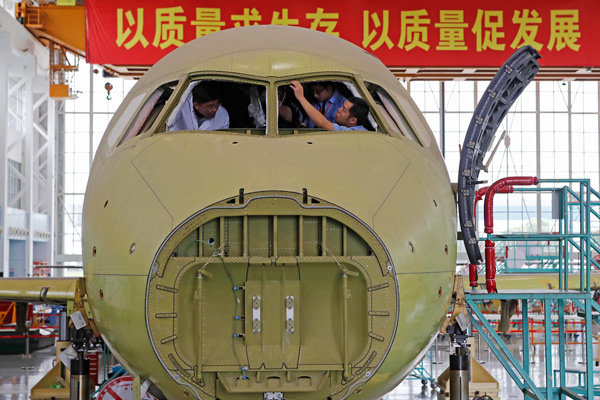 Workers assemble the domestically manufactured regional jetliner ARJ21 in Shanghai. [Photo by Yin Liqin/China News Service]
Expenditure accounted for 2.11 percent of last year's total GDP
China's expenditure on technology research and development rose 10.6 percent to 1.57 trillion yuan ($238.1 billion) in 2016, the fastest annual growth since 2014, as the nation increases its investment in new driving forces to stabilize the economy.
The data was released by the National Bureau of Statistics on its website on Tuesday, saying the growth rate rebounded for the first time after declining for four-year straight drop. It was 8.9 percent in 2015 and 9.9 percent in 2014.
The expenditure accounted for 2.11 percent of last year's total GDP, compared with 2.06 percent in 2015. It has exceeded the average level of 2.08 percent in the EU, while the ratio for OECD countries was 2.40 percent, said the bureau.
R&D expenditure includes labor costs, raw material cost and expenses on fixed-asset construction and management, the NBS said.
Pan Jiancheng, deputy head of the bureau's economic monitoring center, said the increasing proportion of R&D expenditure to GDP indicates that the driving force of economic growth is transforming to innovation-focus from the traditional factors-exports and investment.
According to a national plan for technology development, by 2020 R&D expenditure is targeted to reach 2.5 percent of total GDP.
The government will further boost fiscal investment in technology in the future, to lead more resources to innovation areas, and encourage companies to invest more in research, said Guan Xiaojing, a senior economist with the NBS.
Ning Jizhe, head of the bureau, said on Tuesday at a news conference that investment in manufacturing technology upgrading was faster than overall investment growth during the past year, along with the rapid development of high-tech and strategic emerging industries.
New driving forces, including new industries and business models, contributed 14.8 percent of the country's total GDP in 2015. "The ratio was expected to be higher in 2016," said Ning.
In July 2016, the statistical reform which adds R&D expenditure to the total GDP took effect. The bureau has revised up GDP data in 2015, and earlier years since 1952.
This reform is based on requirements by the United Nations System of National Accounts, which is the internationally agreed standard set of recommendations on how to compile measures of economic activity, according to Pan.
"More statistical reforms will be pushed forward in the future, to better join the international statistical system and reflect the country's real economic situation," said Pan.