Alipay, WeChat Pay vie for customers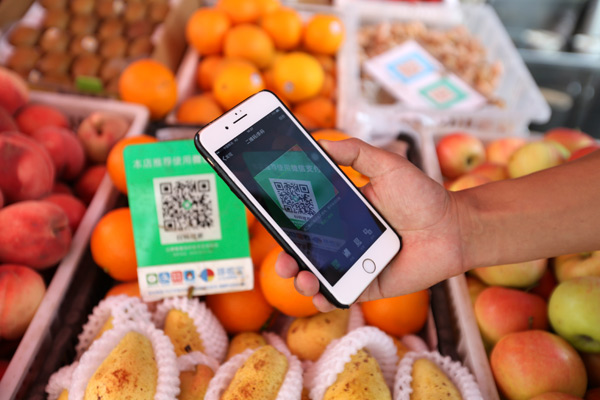 Alipay and WeChat Pay lead China's move to a cashless society, so customers can scan for purchases. FENG YONGBIN / CHINA DAILY
Chinese mobile payment leaders Alipay and WeChat Pay are engaged in a weeklong battle from Aug 1 to 8 to encourage consumers to use their e-wallet solutions amid an escalating duel for digital payment supremacy.
By dishing out a slew of incentives, such as cash rebates, free bus rides and even a chance to win gold, the companies are taking the cashless payment fever to new heights. The battle comes after UnionPay and Apple both rolled out similar programs in June and July to cultivate customer loyalty.
During the promotional period, consumers who use Alipay, the world's top mobile payment tool, for their transactions stand to earn up to 4,888 yuan ($727) in cash rebates if they make purchases at any of the 10 million-plus brick-and-mortar stores across the country accepting the service.
Using the e-payment service automatically gives the consumer a chance to win a piece of the jackpot-an 18.888 kilogram slab of gold. Tencent's WeChat Pay (Wallet), which comes in as a close second in China's red-hot mobile payment arena, also unveiled a raft of promotions during the same period.
Apart from a similar cash rebate scheme, WeChat users can accumulate savings and spend them on Aug 8. Consumers also gain additional cash rewards by sharing promotions with their WeChat contacts.
Alipay and WeChat Pay controlled more than 92 percent of China's 18.8 trillion yuan mobile payment market in the first quarter of 2017, according to Beijing-based research firm Analysys.
According to research group eMarketer, China is the world's largest proximity mobile payment market-making payments by tapping, swiping or checking in with a mobile phone-and nearly half of smartphone users in the country are expected to use such payment methods by 2020.
"This widespread adoption is fueled by growing smartphone usage and the expansion of e-commerce to rural areas," said eMarketer analyst Shelleen Shum.
A study by consultancy Ipsos and Tencent found that mobile payments have become an intrinsic part of life for many Chinese people today, with 14 percent of them carrying no cash and 26 percent carrying less than 100 yuan, when they head out.
Eric Jing, chief executive of Ant Financial, the parent company of Alipay, said the main objective of mobile payments is "by no means to eliminate cash but to give equal access to a wide array of merchandise and services that were previously unattainable for an underbanked population."
Chen Xuejun, a qipao seller in Shanghai, said more than half of his transactions are made through Alipay, and this has improved business efficiency while greatly reducing the risk of him being paid with counterfeit notes.