Alibaba, Tencent want pieces of telecom giant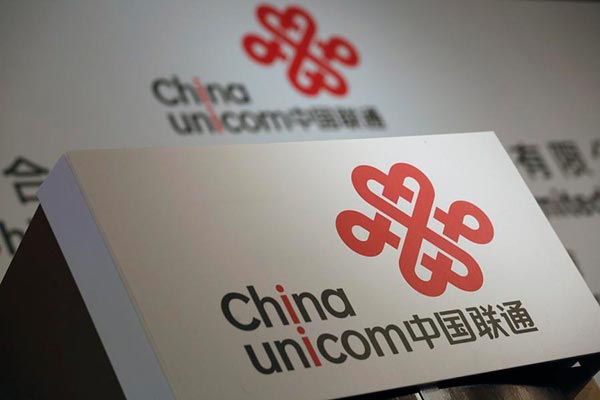 Company logos of China Unicom are displayed at a news conference during the company's announcement of its annual results in Hong Kong, March 16, 2016.[Photo/Agencies]
China United Network Communications Group Co, the country's second-largest mobile carrier by subscribers, has set up two operating centers to deepen cooperation with Alibaba Group Holding Ltd and Tencent Holdings Ltd.
The move signals that Alibaba and Tencent are almost certain to become shareholders of China Unicom, as the State-owned telecom carrier accelerates its push for mixed-ownership reform, analysts said.
According to a document obtained by China Daily, the two centers, established in Shenzhen, Guangdong province, and Hangzhou, Zhejiang province, are designed to expand cooperation, respectively, with Tencent and Alibaba.
Supervised by China Unicom's headquarters, the two centers are engaged in product design, event planning and research and development, and other activities which will support the telecom carrier's nationwide cooperation with the two tech heavyweights, the document said.
The Alibaba-oriented center has started with 50 employees, and the Tencent-centered one starts with 34. The staff lists will be adjusted as needed, the document said.
A screen capture of recruitment information shows that the Tencent center is recruiting employees including product managers, designers and engineers.
China Unicom confirmed to China Daily on Tuesday that the two operating centers have been established, but it declined to offer more information.
Peter Liu, research director at consultancy Gartner Inc, said the move signals that China Unicom is scrambling to deepen business cooperation with Alibaba and Tencent, though details on possible capital injection are yet to be finalized.
"It is unlikely for China Unicom to raise money from all big internet players in China, because all getting a foothold in a boat is equal to no one really on board," Liu said.
China Unicom said in a filing in late July that its mixed-ownership reform plan was approved by the country's top economic planner, the National Development and Reform Commission.
But the company said it was still negotiating with potential backers, despite media reports that Alibaba and Tencent would team up with other big Chinese technology firms to jointly invest about $12 billion into its Shanghai-listed unit. Xiang Ligang, chief executive of telecom industry website Cctime, said investing in China Unicom will give internet companies key access to its core network resources, such as servers and bandwidth.
"Tencent and Alibaba are almost certain to be part of the reform, for their cooperation is generating impressive results," Xiang said.