JD.com locked in war with delivery companies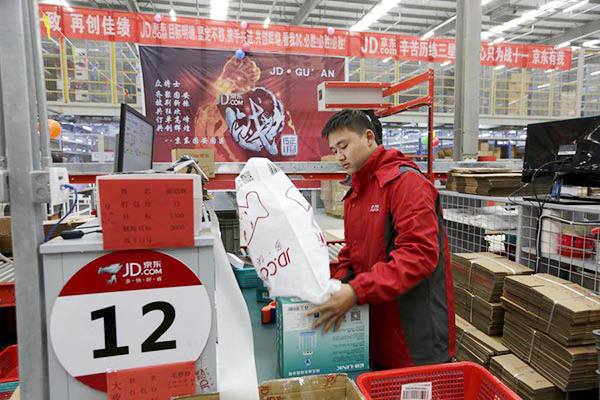 An employee works at a JD.com logistic center in Langfang, Hebei province, November 10, 2015.[Photo/Agencies]
SHANGHAI - Chinese e-commerce platform JD.com is locked in a war with two of the country's major courier companies.
On Monday afternoon, Sun Weimin, deputy chairman of e-commerce platform Suning Commerce Group, which holds shares in courier company TTK Express, said on Weibo that JD.com has stopped cooperation with TTK Express because JD.com claimed "the courier company's service was the worst."
Sun said that TTK was one of the top 10 couriers in China, and that JD.com's decision to cut ties with TTK was "predictable" because of the direct competition between Suning and JD.com.
TTK Express has written a letter to the government for fair treatment, according to Sun.
Following Sun's complaint, JD.com released a statement explaining why it ended cooperation with TTK. According to the statement, JD.com received "a large number of complaints from customers about TTK's poor service."
"TTK Express was the worst among all the courier companies JD.com works with based on a ranking issued by the State Post Bureau," the statement said. It said that TTK was kicked out because JD.com employs a "survival of the fittest" system to make sure customers benefit from good delivery services.
"We suggest Mr Sun stop crying over spilled milk and focus on how to improve TTK's management and services," said the statement.
But TTK was not the only courier company on JD.com's blacklist.
According to a statement issued on Monday night by another major delivery company, YTO Express, JD.com had demanded all vendors on the e-commerce platform work with JD.com's recommended couriers by the end of July, and YTO was not on the list.
According to YTO Express, JD.com's move "has limited impact" on the company because JD.com's parcels only account for about 2 percent of YTO's business.
"We are against any hegemony in this business, and we hope the barriers in the delivery business for e-commerce companies can be broken," the statement said.
According to a June compilation of consumer complaints issued by the State Post Bureau, of the 43 monitored delivery companies, YTO ranked 11th, with only 3.52 valid complaints out of a million, while TTK stood at 14th, with 5.51 valid complaints out of a million. The figures indicated that the two companies ranked in the upper third of the 43 companies monitored.
JD.com's battle with the two companies has fueled speculation that it was a result of competition between JD.com and another e-commerce powerhouse, Alibaba.
Alibaba invested in YTO Express in 2015, holding about 17 percent of the courier company's shares. Alibaba also invested in Suning in 2016, holding about 20 percent of its shares.
"JD.com has its own delivery teams, so to some extent, there is some competition between the company and the two couriers," said Cao Lei, with the China E-commerce Research Center. "Under such circumstances, JD.com should release convincing standards that show the quality of TTK and YTO's services."
Liu Chunquan, a lawyer with Beijing Suewin Law Firm, said that it is necessary to consider if there is unfair competition, and if such business wars affect customers.
"These things matter more than simple words of war," Liu said.
China's express delivery sector continued steady growth in the second quarter of this year.
The sector generated more than 120 billion yuan ($17.8 billion) of revenue in the April-June period, up 27.6 percent year on year, a growth rate around four times the national GDP increase, according to the State Post Bureau. A total of 9.8 billion deliveries were made during the period, up 31.3 percent from a year ago.