Huawei focuses on high-quality to fight competitors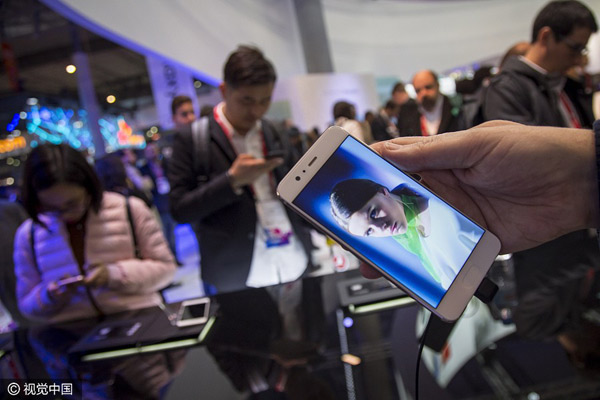 Visitors examine the Huawei P10 devices during the Mobile World Congress in Barcelona, Feb 27. [Photo/VCG]
Huawei Technologies, the world's third largest smartphone vendor, says it will step up efforts to ensure high product quality, as it deals with mounting competition from rivals.
"Product quality is the cornerstone for a brand. In our eyes, any quality defects mean that products have no future," Ma Bing, chief quality officer at Huawei's consumer business group, said.
According to Ma, Huawei shipped about 400,000 to 500,000 smartphones every day and each smartphone contained about 300 to 500 components. "A minor mistake could lead to heavy loss," he said.
As part of its efforts to deal with the challenging task, Huawei has established a research institution in Beijing to test the function of smartphones before they are shipped. With an area of 12,000 square meters, the institute has 23 labs and can test 5,000 smartphones simultaneously.
"Product quality is more important than profits. Nothing can be gained at the expense of quality," Yu Chengdong, CEO of Huawei's consumer business group, said.
Huawei has seen exponential growth in smartphone shipments in the past three years, partly thanks to the company's growing efforts to improve product quality, Ma added.
In the first quarter of 2017, Huawei sold 34.55 million smartphones, up 21.6 percent from the year before. According to data from the market research company IDC, Huawei's share in the global market stood at 9.8 percent in that time frame. In comparison, the number was 8.4 percent last year.