Chinese banks' IT spending to hit $20b by 2020: IDC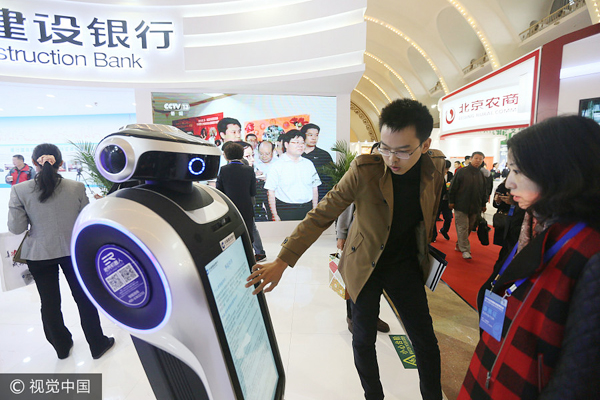 Visitors interact with a robot at the booth of China Construction Bank during an expo in Beijing on Oct 27, 2016. [Photo/VCG]
China's banking sector holds huge potential for information technology companies.
The IT expenditure of China's banking sector is expected to rise from 92.32 billion yuan ($13.58 billion) in 2016 to 135.13 billion yuan ($19.88 billion) by 2020, said Frank Fang, senior research manager of IDC at a forum held by the company in Beijing on Tuesday.
The compound annual growth rate of banks' IT spending is estimated at 10.2 percent from 2015 to 2010, he said.
He suggested IT companies to keep abreast with technological innovation and grasp the innovative needs of customers from the banking sector.
However, given banks' high demand for security, IT manufacturers wishing to have long-lasting success should "lead the users half a step ahead", he said, warning against hasty moves in applying innovations.
The banking sector's major IT demand lies in compliance and anti-fraud solutions, cloud computing, big data, blockchain and artificial intelligence, according to Fang.
The anti-fraud market is still in the initial stage. The market size was 560 million yuan in 2016 and is projected to exceed 10 billion yuan in the next three years, he said.
Cloud computing has entered a stage of deep application in the banking sector, said Fang. IDC data showed that the private cloud market in China's banking sector reached 3.55 billion yuan in 2016 and the market for cloud services came to 1.28 billion yuan.
The application of big data in the banking sector will be in a fast track during the 13th Five-Year Plan period (2016-2020) to reach 10.57 billion yuan by 2020, he said.
The application of the blockchain technology has been expanded in the financial sector, but there is room for improvement in security and transaction efficiency, he noted.
The market size for AI in the financial sector is forecast to reach 3.79 billion yuan in 2020, over 368 million yuan in 2016, he said.
According to the latest data from China Banking Regulatory Commission, net profits of Chinese lenders stood at 493.3 billion yuan in the first quarter, representing growth of 4.61 percent year-on-year.