Herding sheep on this app is no game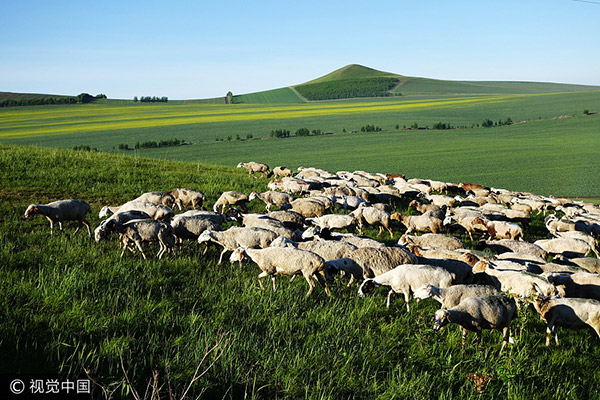 Sheep graze on the grassland in North China's Inner Mongolia autonomous region, May 14, 2017.[Photo/Xinhua]
For thousands of years, people in Inner Mongolia have been herding sheep roughly the same way-whipping the leader from atop a horse or now a motorcycle to lead the herd, with a sheepdog conducting the animals.
But an app has revolutionized the business, freeing shepherds from horses and motorcycles by allowing them to remotely tend to their sheep from home with the help of their smartphones.
The app, developed by Mongolian Triones, a tech startup established in 2015, adopts location-based technologies to provide users with real-time updates of where their sheep or cattle are, their health and detailed reminders such as whether they need water.
Each sheep wears a band or other portable device that automatically sends out coordinates around the clock, monitors health and tracks the weather. To ensure the animals' safety, the company also offers auto-piloted micro drones with cameras that can stream live videos to a user's smartphone and computer.
But of course, if the lead sheep runs away, the owner still has to chase it back the old-fashioned way. At the end of the day, the app is not a remote control.
Tsolbaatar, a 65-year-old shepherd from Ordos, tends more than 350 sheep. He is one of the earliest users of the app. He used to go to his pasture every day at noon to do routine checks on his sheep, ensuring they had water and remained safe. But now, with the app, he gets to spend more time near home with his 120 lambs.
"No matter whether it rains or snows, I'll immediately know where my sheep are. If I need them back, I'll go straight to them and get them back at once. That's all because we have the location service. We can do 'scientific' herding now," Tsolbaatar said.
Khsbol, creator of the app, said it not only brings convenience to shepherds, but also gives consumers a transparent insight into how their mutton is made from the beginning.
"It's not just about where the sheep is, but, more importantly, how much weight it has gained, what grass it eats, what water it drinks, whether it is ill," said Soyolt, another early app user. "The buyers will know immediately."