China Mobile Q1 profit up 4% to $3.6b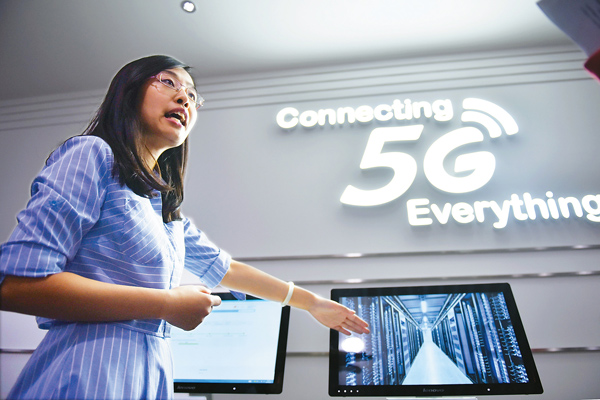 An employee from China Mobile Ltd explains 5G technology at an exhibition hall in Beijing. WU GANG / XINHUA
Show boosted by higher revenue from telecoms services and demand for data
China Mobile Ltd, the world's biggest telecom carrier by subscribers, reported that its first-quarter net profit jumped 3.7 percent to 24.8 billion yuan ($3.60 billion), boosted by consumers' growing demand for data traffic and higher revenue from telecom services.
The Beijing-based company said that as more consumers upgrade to the 4G network, China Mobile's data traffic jumped 101 percent from a year earlier.
The company has more than 856 million users and 568 million of them are now 4G subscribers. It is competing fiercely with two smaller rivals-China United Network Communications Ltd and China Telecom Corporation Ltd-which have signed a deal to share 4G resources.
China Mobile's Q1 revenue also rose 3.7 percent to 184 billion yuan, with telecom services revenue surging 6.1 percent to 160.9 billion yuan.
Xiang Ligang, an analyst and founder of the telecom industry website cctime.com, said that China Mobile was increasingly relying on data traffic to boost revenue, as its voice calls and text services were being pressured by competition from free internet-based messaging services such as Tencent Holdings Ltd's WeChat.
"To ensure sustainable growth, China Mobile needs to boost operating efficiency, given that it is under mounting pressure from the government to cut charges for data traffic," Xiang said, adding the problem was challenging the three telecom carriers.
They have already rolled out plans that allow users to carry over unused data capacity from one month to the next, in response to a government request for lower mobile phone tariffs.
Following the Q1 results release, the carrier's shares slipped 0.36 percent to close at HK$83.85 ($10.78) in Hong Kong on Friday.
China Mobile said it is also ramping up resources to develop 5G networks, as part of its efforts to establish an edge in the next-generation communication technology. It plans to put 5G into trial operation in 2018, before commercializing the technology in 2020.
China Mobile Chairman Shang Bing said earlier that his group was aiming to have at least 10 billion internet-enabled connections by 2020, accounting for one-fifth of global connections.
"We will step up efforts to expand our presence in the connected car sector, as part of our efforts to double the number of connections we had in 2015," he said.