Alibaba buys 25 percent stake in Haier multimedia company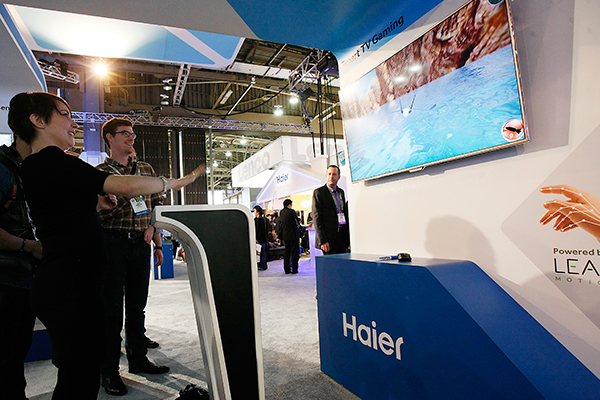 Qingdao Haier Co Ltd displays its TV product at the CES in Las Vegas, Nevada, United States. [Photo/Xinhua]
Qingdao Haier Co Ltd-the listed arm of Haier Group, China's biggest home appliance supplier-said it will join hands with e-commerce giant Alibaba Group Holdings Ltd to own stakes in Haier's multimedia company.
Haier said its multimedia company, which is positioned as an operating platform of Haier's TV business, planned a share transfer and capital boost.
Under the terms of the deal Qingdao Haier will own 20.2 percent in the multimedia firm, paying 525 million yuan ($76.4 million), while Alibaba will own 25.25 percent after the transaction, paying 657 million yuan ($95.6 million).
A statement released late Monday by Qingdao Haier said the move would help build up Haier's smart home product offering and secure more television users.
The announcement said Haier and Alibaba would combine the strengths of both companies to launch innovative products and cater to market demands.
Alibaba said with the further integration of the real economy and new technology, the two sides would strengthen their cooperation to promote intelligent home appliance products and services.
Last year revenues of Haier's multimedia firm totaled 6.7 billion yuan ($975 million), with net profit of 113 million yuan.
"Haier hopes to beef up the content development of its TV business through cooperation with internet giant Alibaba and as a traditional company to explore a new development mode," said Zhang Yanbin, assistant director of All View Cloud, a Beijing-based consultancy specializing in home appliances.
"Haier attaches great importance to its TV business. The operation will make the two sides make full use of their resources and complement each other with advantages."
Zhang said internet TV brands such as LeEco and. Xiaomi Corp had strengths in TV content and value-added services, which traditional home appliance manufacturers could learn from.
Founded in 1984, Haier has been the household electrical appliances brand with the highest sales volumes in the global market for several consecutive years, according to consultancy Euromonitor International.
He Wei contributed to this story.